​British govt 'committed to opposing Israel boycott' – Foreign Office minister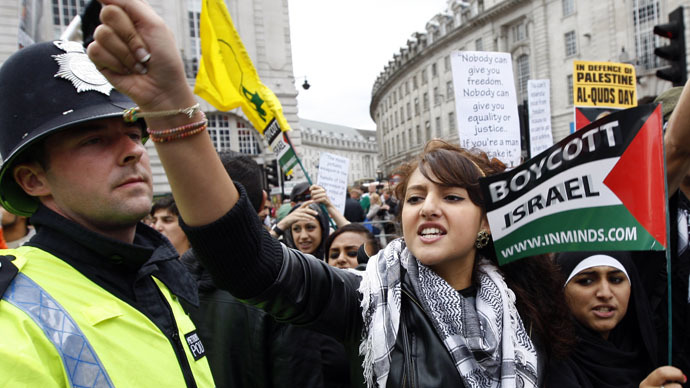 A British Foreign Office minister has said the UK is committed to opposing a boycott of Israel. The statement comes after Israeli Prime Minister Benjamin Netanyahu condemned a vote by the National Union of Students (NUS) vote to boycott goods from Israel.
Tobias Ellwood MP sent the message on Twitter to Israeli National Security Adviser Yossi Cohen on Wednesday.
The Conservative Minister for the Middle East said he had a "useful" meeting with Cohen, before reaffirming the UK's opposition to the boycott, divestment and sanctions (BDS) movement.
His comments come days after the NUS passed a motion to boycott Israeli goods in solidarity with BDS.
Ellwood also said he and Cohen, a former Mossad agent, had a "good discussion on Gaza."
The Tory minister expressed his opposition to sanctions in a parliamentary debate on a motion to recognize Palestine's statehood last December.
Useful meeting with Israeli NSA Yossi Cohen. Good discussion on #Gaza. Reaffirmed UK commitment to #Israel and opposition to boycotts.

— Tobias Ellwood MP (@Tobias_Ellwood) June 3, 2015
A majority of British MPs passed a non-binding motion to recognize Palestine as an independent state last October.
Ellwood said he did not believe in the merits of introducing sanctions "when we are trying to get people back to the [negotiating] table."
He added the UK government wanted to "reserve the right to recognize Palestine when that is most likely to lead to a two-state solution."
National Security Advisor Cohen has been making the rounds in Europe, having spoken on the phone to a senior French official on Friday.
The unnamed French diplomat reportedly accused Israel of exerting "excessive" pressure in the wake of telecommunications company Orange's decision to withdraw its operations from the country.
READ MORE: Netanyahu attacks National Union of Students' Israel boycott
READ MORE: National Union of Students executive committee votes to boycott Israeli goods
READ MORE: Israel could lose 'credibility' over Netanyahu's stance on Palestine – Obama
Orange CEO Stephane Richard told reports in Cairo on Wednesday he was ready to "withdraw from Israel," citing the company's sensitivity to Arab countries.
Orange is part-owned by the French government, but officials in France said the decision was up to Richard.
PM Netanyahu responded angrily to the announcement, calling on "the French government to publicly repudiate the miserable statement and miserable action by a company that is under its partial ownership."
Netanyahu also publicly expressed anger at the NUS, the largest student union in the country, for passing a motion in support of a boycott of Israeli goods.
"This is less than a year after they refused to support a boycott of ISIS," he said in a meeting with Canadian Foreign Minister Robert Nicholson in Jerusalem.
"They boycott Israel but they refuse to boycott ISIS. That tells you everything you want to know about the BDS movement. They condemn Israel and do not condemn ISIS; they condemn themselves."
The NUS national executive passed the motion with 19 votes in favor, 14 against and 1 abstention.
Proponents of BDS say economic pressure will force Israel to change its policy, acknowledge its actions in Gaza and, allow encourage the creation of a Palestinian state.
The movement has been gaining traction in recent months, with several high profile musicians canceling performances in Israel in protest against the state's treatment of Palestinians.
During the summer of 2014, Israel's Operation Protective Edge caused the death of more than 2,000 Palestinians.
Israeli government officials have responded angrily to BDS successes.
"The boycotters of Israel are not looking ... to partition the land of Israel, but to erase the state of Israel," Justice Minister Ayelet Shaked said this week.
"This is anti-Semitism under a new guise."
You can share this story on social media: