​Israel could lose 'credibility' over Netanyahu's stance on Palestine – Obama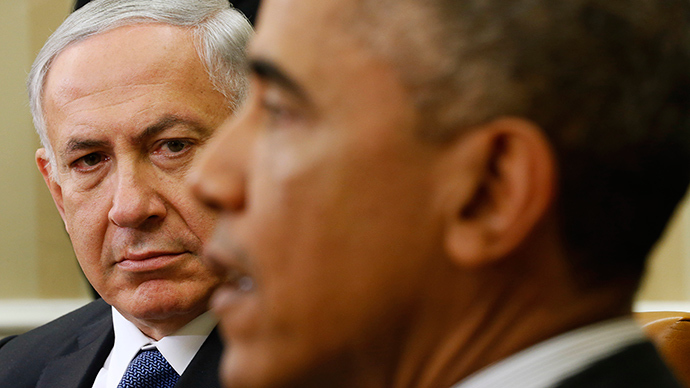 Israeli PM Benjamin Netanyahu's inconsistent views on Palestine could cost Israel its world "credibility," US President Barack Obama has warned. This is the latest jab at Netanyahu in the ongoing US-Israeli rift over Palestinian statehood.
"The danger here is that Israel as a whole loses credibility," Obama told Israel's Channel 2 in an interview on Tuesday. "Already the international community does not believe that Israel is serious about a two-state solution."
Obama was responding to a question regarding Netanyahu's contradictory comments made about the creation of a Palestinian state before and after the March's general election.
During the campaign, Netanyahu first ruled out Palestinian statehood and then later backpedaled on the issue. In one of his most recent comments, Netanyahu claimed he supported a creation of a Palestinian state, calling for peace talks to resume.
READ MORE: Netanyahu demands Palestinians stop anti-Israel 'campaign', return to negotiations 'without preconditions'
For Obama, however, the sudden change of heart seemed "as if this is simply an effort to return to the previous status quo in which we talk about peace in the abstract, but it's always tomorrow, it's always later." The US president, who assumed office the same year as the Israeli leader, in 2009, then described Netanyahu as "a politician, who's concerned about keeping coalitions together and maintaining his office."
Netanyahu's statements following the election had "so many caveats, so many conditions, that it is not realistic to think that those conditions would be met any time in the near future," Obama said.
READ MORE: Obama confirms 'evaluating options' after Netanyahu's 'no Palestinian state' pledge
From Obama's point of view, Netanyahu is someone who is driven by fear. He is "predisposed to think of security first. To think perhaps that peace is naive … To see the worst possibilities, as opposed to the best possibilities in Arab partners or Palestinian partners, and so I do think that right now, those politics, and those fears are driving the government's response," Obama said.
As for concrete steps toward solving the Israeli-Palestinian problem, Obama hinted it would be more "difficult" for the US to continue to veto UN resolutions criticizing Israel. This is because, with no prospect of peace in sight, "it becomes more difficult to argue with those who are concerned about settlement construction, those who are concerned about the current situation."
For more than five decades, the Palestinians have been seeking full statehood recognition and independence from Israel. Meanwhile, Israeli governments have worked toward legitimizing settlements instead, which have grown in number and have been widely viewed as a violation of international law.
READ MORE: Military strikes won't end Iran's nuclear program – Obama
When answering a question about Iran, Obama defended the ongoing nuclear negotiations ahead of the June 30 deadline – in what has seemingly been another major split with Netanyahu.
"I've said that, in exchange for some modest relief in sanctions, that Iran is going to have to freeze its nuclear program, roll back on its stockpiles of very highly enriched uranium," he said. "At that time, everybody said 'This isn't going to work! They're going to cheat, they're not going to abide by it.' And yet, over a year and a half later, we know that they have abided by the letter of it."
With the Israeli leader being a staunch opponent of any deal with Iran, the interview has been seen as an attempt by Obama to convince Israelis that he will not sign onto a bad deal, and that he "understands" their fears.
READ MORE: 'Iran nuclear deal game: 'France-good cop & US-bad cop'
You can share this story on social media: