Shaker Aamer: British agents present during my CIA torture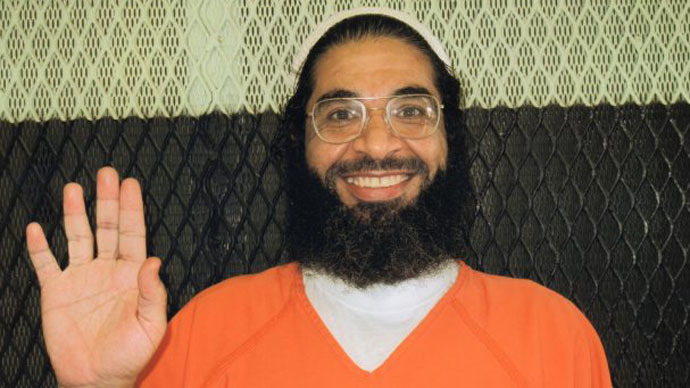 Shaker Aamer, the last British resident detained at Guantanamo Bay, has spoken out about his treatment at detention centers in the US and Afghanistan, claiming he was tortured in the presence of British soldiers and MI5 agents.
Aamer has been held at Guantanamo for 13 years without trial. His lawyers claim the extended detention without charge is to prevent him from speaking out about his ordeal. Now newly released transcripts reveal the complicity of British officers in the CIA torture program.
The south Londoner notes that during one incident he was slammed against a wall while a British officer was in the room, while on another occasion a British soldier visited him while he was held in a cage.
He was held at US base in Afghanistan in 2001 when both of the alleged incidents to place.
READ MORE: 'He was never a threat to any country': UK MPs in US to lobby British Gitmo prisoner's release
READ MORE: Last Briton in Guantanamo 'knows too much' to be released, MPs claim
New information about the extent of Aamer's ordeal has been revealed in his doctor's medical report.
Californian psychiatrist Dr Emily Keram met with Aamer on a number of occasions and has documented his torture, which includes being beating, tied up in stress positions, deprived of sleep and being "destroyed" by interrogators.
Campaigners have long called for Aamer's release, and while President Barack Obama said in January he would prioritize the case, Aamer has still not been freed, despite twice being cleared for freedom.
He told Keram how he had been stripped of his pride, adding that any confessions he had made had been under duress.
"I was not a human being any more. I meant nothing to them. I lost my dignity, my pride," he said.
"I had to take off my underwear and hand it to them. I had sleep deprivation for 11 days. That made me crazy. They poured cold water over me. They kept me standing for 20 hours a day. I had to hold my hands and arms out."
"All of the statements I made at Bagram were during the sleep deprivation. I would have said anything. I told them, 'I will tell you I am Bin Laden if you want me to,'" he said.
Aamer also told his doctor how he was hurled against the wall of an interrogation chamber as a British officer looked on.
"They do that until you are shivering, until they have broken you, until your mind is completely empty. You feel like you're not real any more. Like it's a dream."
"And now the worst part comes. They treat you with kindness. It destroys you completely. Your thinking is paralyzed. Your feeling is paralyzed. And the interrogator says, 'I am trying to help you.'"
"You don't know what to love and what to hate because it's all happening at the same time. They bang your head on the wall and then they give you a hot meal," he said.
Aamer was arrested in 2001 in Afghanistan and subsequently moved to Guantanamo Bay, where in 2007 the US military claimed he was a "close associate" of Osama Bin Laden and a "recruiter, financier, and facilitator" for Al-Qaeda.
Aamer has always insisted he was only in the country to perform charitable work and said he confessed to being a jihadist while being tortured at the hands of the CIA.
Keram said the prisoner suffered traumatic relapses when being asked to describe the torture.
"At those times, he either stopped talking or repeatedly engaged in apparent efforts to distract himself from painful and disturbing memories by suddenly and loudly singing," she said.