Osborne unveils further £3bn budget cuts, full Royal Mail sell off
Published time: 4 Jun, 2015 16:33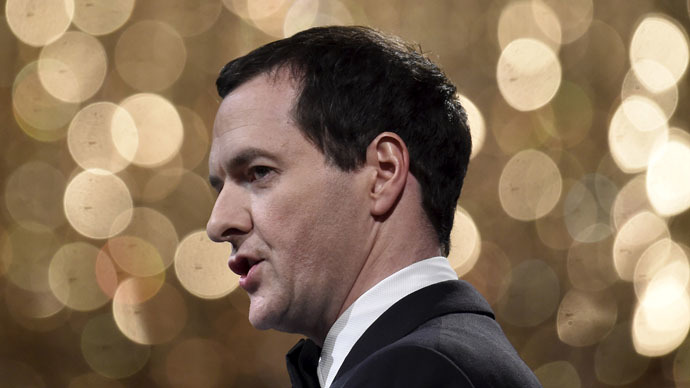 Chancellor George Osborne has revealed the government's plan to sell its remaining stake in Royal Mail, as well as making £3 billion worth of further cuts to public spending.
All unprotected departments will be hit by the cuts with the Ministry of Defence (MoD), the Department for Education and the Department for Business, Innovation and Skills taking heavy cuts of almost £1.5 billion collectively.
Osborne also announced £500 million of defense cuts, which suggest the government is not on track to meet the symbolic 2 percent of GDP target required of NATO member states.
The government will further sell its £1.5 billion share in Royal Mail, Osborne said, following speculation that it may have been undervalued by £1 billion.
"I am today announcing that the government will begin selling the remaining 30 percent shareholding we have in the Royal Mail.
READ MORE: Generation debt: Govt overspending to leave millennials with 'apocalyptic' £6trn bill
READ MORE: Military cuts could leave UK's 'huge commercial interests' in Asia vulnerable – Fallon
"It is the right thing to do for the Royal Mail, the businesses and families who depend on it – and crucially for the taxpayer.
"Further savings in departments this year – and selling our stake in the Royal Mail.
"Getting on with what we promised. Reducing the deficit – that is how you deliver lasting economic security for working people.
"For as everyone knows, when it comes to living within your means, the sooner you start the smoother the ride," Osborne said.
The Institute for Fiscal Studies (IFS) said the proposed government cuts were twice as deep as the Tories had originally pledged because the cost of protecting the NHS, schools and aid budgets had left other departments vulnerable.
The IFS added that the Conservatives had been "misleading" when they said only £13 billion of further cuts would be required. They claim it will take a total of £33 billion worth of cuts to unprotected departments.
This equates to 15 percent over the next three years, or 37 percent since 2010.
On defense, US President Barack Obama is expected to use the upcoming G7 summit in Germany to quiz the UK about its commitment to the 2 percent NATO target.
Osborne's announcement came as the People's Assembly Against Austerity held a press conference, featuring celebrities such as singer Charlotte Church.
Church, a wealthy performer, has been accused of hypocrisy for supporting the anti-austerity group. Responding to critics, the singer tweeted: "I have no ulterior motives. The injustice and inequality in society that is pushed further by this government makes me as angry as the hulk!"
Church called on the public to support the June 20 mass demonstration against austerity, saying the government had "misled" the public. She said her wealth had always been overestimated and she would be happy to pay a higher rate of tax if it helped stop spending cuts.
"I'm disappointed at the vitriol directed my way, if I gave 70 percent of my earnings to HMRC voluntarily, not only would it not last long as our public services cost hundreds of billions to fund but I doubt it would encourage the richest in this country to get a conscience and follow suit."
Also speaking at the press conference, Steve Turner, Assistant General Secretary of the UK's biggest trade union, Unite, said: "We will see a broad coalition against the vicious attacks from this vindictive government."