£1bn care cuts will erode quality of life for thousands of elderly, disabled – study
Published time: 4 Jun, 2015 14:22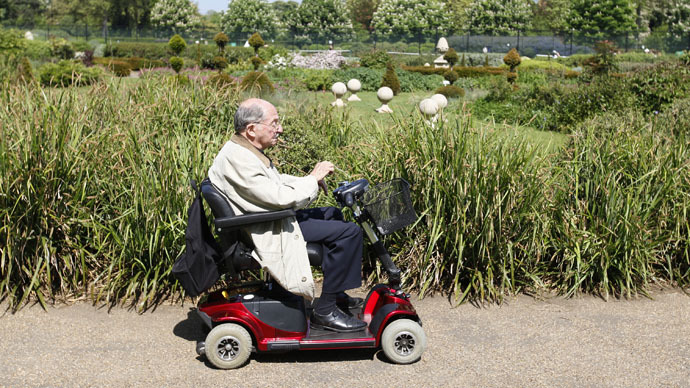 Over £1 billion will be slashed from social care services for the elderly and disabled in England over the next 12 months, leaving many thousands of vulnerable people with less support for vital tasks such as bathing, eating and dressing, it has emerged.
Despite soaring demand fueled by an aging population, fewer people will qualify for state care. Meanwhile, those who continue to avail of state care services may face an overall reduced quality of life, a new report suggests.
The study, conducted by the Association of Directors of Adult Services (ADASS), was published Thursday. The group aims to protect the interests of sick, vulnerable and disabled people by promoting high standards of social care and driving the development of social care policy.
The report said annual cuts to English council budgets could jeopardize the state's legal duty of care to disabled and vulnerable people.
READ MORE: Emotional toxicity of austerity eroding mental health, say 400 experts
READ MORE: Half-blind UK widow commits suicide after incapacity benefit cut
READ MORE: 'Britain's inhumane welfare sanctions causing destitution & hunger' – Church leaders
READ MORE: Heat or eat? Fuel bank scheme to assist families crippled by poverty
READ MORE: Generation debt: Govt overspending to leave millennials with 'apocalyptic' £6trn bill
It also highlighted the "folly" of expanding NHS budgets at a time when social care budgets are being slashed given the "widely acknowledged significance of the link between the two."
"Protecting the NHS is an important policy objective. But the health service itself agrees that an important part of that equation is the simultaneous protection, and enhancement, of social care budgets," the report reads.
It found that the reliability and quality of local council services would be eroded as a result of chaos in Britain's private care sector, driven in part by a council spending freeze.
It predicted this tapered spending would undercut attempts to retain a "caring, compassionate and trained workforce."
ADASS President Ray James called upon ministers to reverse cuts implemented since 2010 and invest considerable and sustained funds in care for Britain's most vulnerable.
"Short-changing social care is short-sighted and short-term," he said.
"It must also be short-lived if we are going to avoid further damage to the lives of older and vulnerable people who often will have no one else but social care to turn to."
James stressed that further cuts to social care would ramp up pressure on an already frayed National Health Service (NHS). His perspective was echoed earlier this week by health service chiefs who warned that ministers had to pledge certain levels of spending on social care and hospitals if the NHS was to withstand a further five years of austerity.
Speaking to The Guardian, a government spokesperson criticized the ADASS report for ignoring ministerial pledges to invest additional resources in social care services through the Better Care Fund. The fund is a government program designed to promote integrated health and social care.
Founded in 2013, it ostensibly focuses on new ways of helping sick and older people to live independently in the home.
"Increasing budgets isn't the only solution," the government spokesperson said. "By working innovatively and joining up health and social care we can improve care – and also save money."
However, James said the government's rhetoric was not matched by its actions and demanded open debate on the true pressures plaguing adult social care services.
He expressed doubt over whether adult social care services could continue to sustain the most vulnerable people.
"The ongoing clampdown on fees to providers is beginning to have an inevitable clampdown on staff skills, staff training, staff remuneration and staff satisfaction," he said.
"Yet a well-paid, properly valued workforce is the rock on which the safety, care and security of so many of our vulnerable population is based. Without the one, it is becoming increasingly obvious that you cannot have the other."
James said maintaining "a sustainable workforce" in a sustainable market is a core concern, particularly in the context of "staff turnover,""staff quality," wages and the need for more care workers in years to come.
He praised council officials for prioritizing adult social care in a climate of ongoing budget cuts. But he warned the ability of councils to do this in the future is in doubt.
Since 2009/10, councils have slashed £4.6 billion from social care budgets for adults in Britain. They are set to carry out a further £500 million in service cuts over the next year at a time when local authorities face £600 million in additional service demand and price inflation. This brings their overall funding cuts to £1.1 billion.
Over the past five years, roughly 400,000 fewer people were offered social care support services. Social care chiefs estimate this trend is set to continue as the government goes ahead with further cuts.
Councils are predicting a £4.3 billion gap in social care funding across England over the Conservative Party's five-year term in government.
Richard Humphries, director of policy at the King's Fund think tank, told The Guardian that social care in Britain had reached a crossroads.
"It is at risk of becoming a residual service, available only to those with the lowest incomes and highest needs, leaving thousands of people and their families struggling to meet the costs of care," he said.