​'Britain's inhumane welfare sanctions causing destitution & hunger' – Church leaders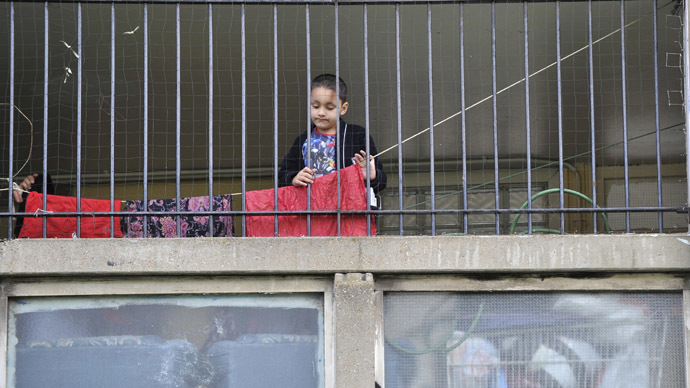 A coalition of leading church groups said the British government is knowingly harming vulnerable people with its benefit sanctions regime. The austerity policies are causing widespread dejection and hunger, a report published on Monday suggests.
Following a Freedom of Information (FoI) request, the church groups found approximately 100,000 youngsters were affected by benefits sanctions in 2013/14.
The groups said the reforms are primarily aimed at slashing welfare payments rather than aiding the unemployed back into work.
They are demanding an immediate overhaul of the system, branding the sanctions benefits scheme harsh, inhumane and un-Christian.
#ToryBritain: 93,000 children left starving by Government's cruel benefit sanctions. #DWP#ukpoverty#childpovertyhttp://t.co/LKOUAtU46F

— Angus Carruthers (@AngusCarruthers) March 2, 2015
The group's research, "Time to Rethink Benefit Sanctions," was published by the Baptist Union of Great Britain, Church Action on Poverty, the Church in Wales, the Church of Scotland, the Methodist Church and the United Reformed Church.
It uncovers new information on the length and severity of sanctions under the British government's welfare reforms. It also sheds light on how such sanctions impact on society's most vulnerable.
Particularly high-risk groups are children and those who suffer from mental health problems, according to the report.
As part of the government's benefits sanctions regime, welfare payments are halted for a month to three years in cases where claimants breach benefit regulations.
Tonight #dispatches explores benefit sanctions. Read our submission to official sanctions enquiry here: http://t.co/rmS427EjUD@C4Dispatches

— Inclusion (@InclusionCESI) March 2, 2015
Over a million unemployed Britons suffered benefits sanctions in 2014 and the policy will be extended to low-earning working families, who rely on benefits under the coalition's welfare reforms.
The coalition of churches' report documents the case of James, who suffered from hunger and weight loss under the sanctions.
"During the first three weeks of my sanction I continued to look for work as I was required to. By the fourth week however I was exhausted, unwell and no longer had it in me," he said.
"I was not eating as I had no food and was losing a lot of weight. I told the Job Centre I was unwell through not eating, but was sanctioned for another three months for not looking for work properly."
Benefit sanctions punish job-seekers unjustly, say Churches http://t.co/KNGStr1Z9Vpic.twitter.com/NjnmU09IyR

— Church Times (@churchtimes) March 2, 2015
Paul Morrison, a public policy expert and one of the report's authors, said sanctions impact disproportionately on Britain's youth, the homeless, single parents, and those with long term or mental illness.
"This system causes problems for the very people that most need help," he argued.
Morrison said the impact of sanctions is more than financial. He stressed those exposed to benefits sanctions often felt shamed and demoralized.
"As Christians we believe that everyone is loved, valued and made in the image of God, and we have a responsibility to challenge any structure or system that undermines this dignity," he added.
Niall Cooper, Director of Church Action on Poverty, said the sanctions are utterly unreasonable.
"If you commit a crime, no court is allowed to make you go hungry as a punishment. But if you're late for an appointment at the JobCentre they can remove all your income and leave you unable to feed you or your family for weeks," he said.
"Most people in this country would be shocked if they knew that far from providing a safety net, the benefit sanctions policy is currently making thousands of people destitute."
The churches are collectively demanding a full, independent assessment of the regime.
They are also calling for immediate reform of the coalition's hardship payments system to prevent what they describe as the "deliberate imposition of hunger."
In particular, they are calling for the immediate suspension of sanctions against families with young children and those with mental health issues.
You can share this story on social media: