£22bn NHS cuts and 'staff burnout' could halt Tory reforms - health trust
Published time: 2 Jun, 2015 14:20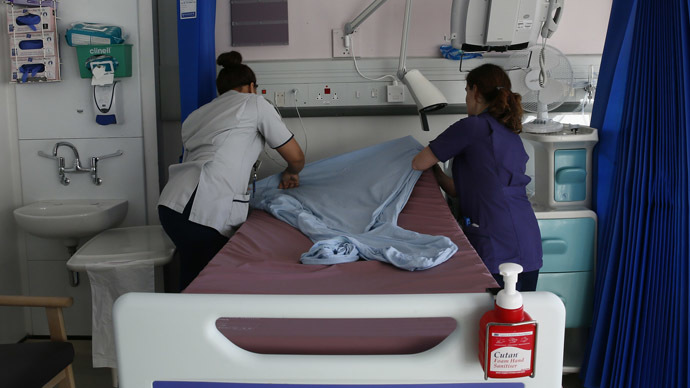 Plans to move the National Health Service (NHS) to a seven-day service could be hampered by increased pressure on staff, coupled with £22 billion worth of further cuts, a report has warned.
The report from healthcare think tank The Nuffield Trust comes as Health Secretary Jeremy Hunt announced a clamp down on excessive NHS spending on agency staff.
The Nuffield Trust said Tory plans to cut spending and increase operating hours of the NHS could create staff burnout which "could hamper progress at a time of immense pressure on the NHS."
The report calls for an overhaul of the current top-down organizational structure, saying the "narrow" goals are forcing distorted hospital priorities.
Nuffield Trust CEO Nigel Edwards said: "The NHS needs to hit very ambitious efficiency targets, at the same time as fundamentally changing the way care is delivered and moving to a seven-day service. That can only be done if it has the right staff in the right places. Yet there are not enough staff to fill gaps in key areas, and we are seeing clear signs of stress and disengagement.
"Already, the health service has been thrown off course by the massive bill for agency staffing because it can't get enough permanent nurses to join hospital trusts. Solving these problems doesn't just mean pledging more doctors and nurses. We need to use those we have more intelligently, so that they're more ready to deal with the growing number of older people with very complicated health issues."
READ MORE: Patients left without food, water, pain relief in N. Irish hospitals, inquiry reveals
Their report coincides with government plans to tackle current spending on NHS agencies, which hit £3.3 billion last year.
New measures will set a maximum hourly rate for agency doctors and nurses, as well as capping the total amount struggling trusts can spend on agency work.
The total bill for management consultants was £600 million in 2014, with some trusts paying agencies as much as £3,500 for a single doctor's shift.
Hunt said: "Expensive staffing agencies are quite simply ripping off the NHS. It's outrageous that taxpayers are being taken for a ride by companies charging up to £3,500 a shift for a doctor. The NHS is bigger than all of these companies, so we'll use that bargaining power to drive down rates and beat them at their own game."
Nigel Edwards added that while the new measures were welcomed, cutting down on agencies would not solve funding problems.
"It's welcome news that the government has agreed to a steady plan for funding the NHS. But that plan relies on £22 billion in efficiency savings. That is well above what the health service or the rest of the British economy have managed in the recent past. We need more detail about where that sum will be found, and how it can be achieved in the face of rising patient needs, expensive new drugs, and plans for a seven-day NHS."