2015 general election most unfair in history – study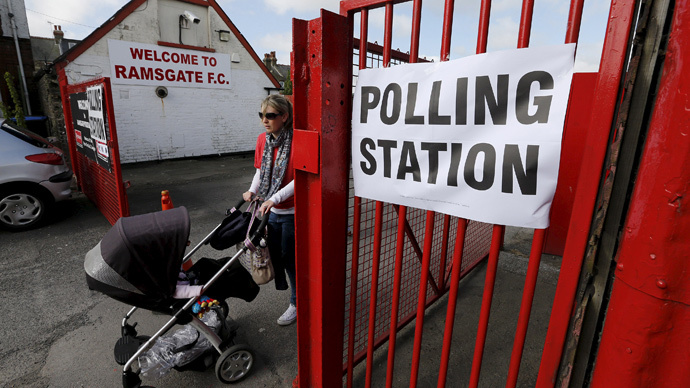 May's general election was the most unfair in history with successful candidates winning their seats with the fewest number of votes, a new report has shown.
Half of all votes cast in the election – 22 million – went on losing candidates, 331 of 650 MPs elected on under 50 percent of the vote, and 191 with less than 30 percent of the electorate.
The report, published by the Electoral Reform Society (ERS), analyzed the number of seats each party would have won if different voting systems had been used, and found that in all but one case, the number of seats won by Labour and the Conservatives would have been far fewer, with smaller parties gaining more seats.
Using the proportional representation (PR) method, UKIP, which gained 12 percent of the vote during the election, would have won 80 seats, with the Green Party amassing 20 MPs.
READ MORE: Greens, UKIP & minority parties call for UK electoral reform, launch petition
Both UKIP and the Greens have backed a campaign for electoral reform after both of their parties won more total votes than the Scottish National Party (SNP), but were awarded just one seat each. The SNP meanwhile won 56.
"Support for UKIP surged at this election, making the party the third largest on vote share nationally (12.6 percent), overtaking the Liberal Democrats (who dropped from 23 percent to 7.9 percent). Yet this remarkable result delivered UKIP just one Member of Parliament. The Conservative Party received three times as many votes but 331 times as many MPs" the ERS noted.
The report also found that one candidate, Alasdair McDonnell for South Belfast, won his seat with the lowest vote share in electoral history – just 24.5 percent.
ERS argues that as well as fostering poor representation, the First Past the Post (FPTP) system is "artificially inflating divisions and leading to a 'postcode electoral lottery' where parties are excluded in one area and over-represented in another."
ERS CEO Katie Ghose said: "This report shows definitively that our voting system is bust. May 7 was the most disproportionate election in British history – and it's about time we had a fairer system for electing our MPs."
Ghose called the current voting system a "democratic crisis," calling the FPTP system "archaic and divisive."
"[FPTP] leaves millions disenfranchised and forces millions more to feel that they have to vote for a 'lesser evil' – instead of who they really support. The Greens and UKIP won 5 million votes and just two seats between them. This is simply unsustainable – and can only end badly."
"We can't afford to see a repeat of the 2015 election, with the majority of MPs elected on less than half the vote and a government winning a majority on just over a third of votes. The government now needs to act to ensure people aren't driven even further from politics. As we've shown today, democracy doesn't have to be like this. It's time for our voting system to move into the 21st century," she said.