'All in this together': Cameron to impose 5-yr salary freeze for govt ministers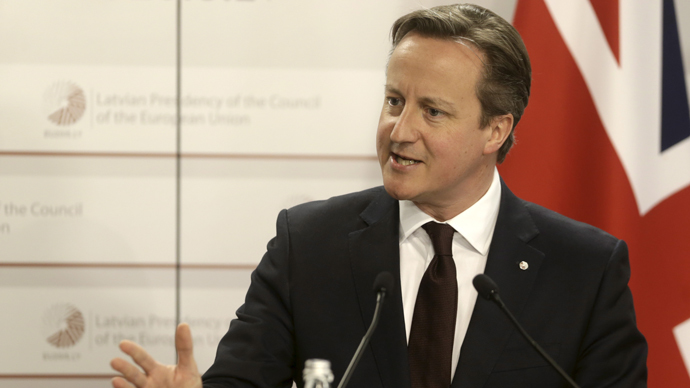 UK Prime Minister David Cameron has announced his plan to freeze the salaries for government ministers for the next five years. The move will save about £800,000 ($1.2 million) a year, or £4 million ($6.1 million) by 2020.
"As we go about doing that, I want people to be in no doubt: I said five years ago we were all in this together and, five years on, nothing has changed. That's why, for example, I've decided to freeze the pay of the ministers in the government," UK PM David Cameron wrote in a Sunday Times column.
Currently ministers in the UK government receive about £134,565 ($207,572), including their pay as MPs. The prime minister receives at least £142,500 ($220739).
READ MORE: Tory cuts risk people's lives by forcing councils to switch off CCTV – watchdog
The Conservative leader said that the country had "halved the deficit as a share of the economy… but there's still half of it left to pay off. So we will continue to take the difficult decisions necessary to bring spending down and secure our economy."
According to Cameron, Britain can become a country "where all hard-working people can get on."
"…Not a two-speed society where some can afford childcare and homes of their own and others cannot," he added, "We can become a place where every town, city and region has a stake in economic growth and political power."
One of the primary tasks of the UK government is "to help working people get on" as getting a job is an "absolute key to getting on."
The task of the government after the elections is one of "renewal," Cameron said.
"This time it's renewal — renewing the idea that we are one nation, in which all working people can succeed; people of all backgrounds have social justice; and the ties that bind all parts of our nation are strong."
Falling prices and rising wages are good news for working people. A stronger economy means more financial security for families. #Inflation.

— David Cameron (@David_Cameron) May 19, 2015
On Friday, a report by Britain's End Child Poverty campaign said that families across the UK are being forced to cut spending on essential items such as food, clothing and heating as a result of government cuts to child benefits. Low-earners are among the hardest hit, the research warns.
The typical working family with two children will lose £513 ($794) this year due to welfare changes made in the last parliament, the report said. Across the country, more than 4 million households have been affected by below-inflation rises to child benefits and child tax credits.
READ MORE: 'Short-changed': Families struggle to afford food, clothing after child benefits slashed – report
With a popular vote of 36.9 percent, the Tories managed to secure an overall majority in parliament and a second term for David Cameron in the May 7 elections, doing away with the need for a coalition government with their junior partners in 2010, the Liberal Democrats. Since then the party has been working to introduce measures to handle the crisis in economic and social spheres.
Many in Britain, however, don't agree with the Tories' austerity plans. On Saturday around 2,000 people gathered in Manchester to protest against austerity and the government's "callous cuts" over the past five years.
"How are we going to protect the vulnerable, the sick, the unemployed, the students, the pensioners, the people who have already been suffering for five years?" said Penny Hicks, convener of the Manchester chapter of The People's Assembly Against Austerity.
Cameron will present the Tories' new legislative plan in the Queen's Speech on May 27.