​4.3 quake hits Kent coast, tips over garden chairs & sparks Twitter satire
Published time: 22 May, 2015 12:01
Edited time: 22 May, 2015 15:01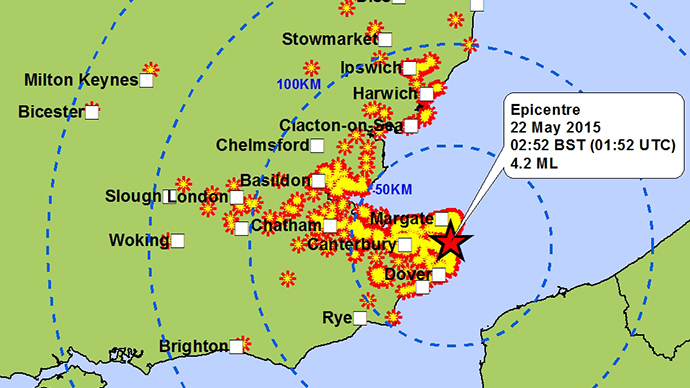 A tremor measuring 4.3 on the Richter scale hit the Kent coast just before 3am Friday, causing buildings to shake across an area of some 20 miles. Amid mild shock from residents, Twitter featured scattered patio chairs and "We will rebuild" jokes.
The quake, dubbed the 'Ramsgate rumbler' by the Independent, struck at 2:52am 1.4 miles (2.3km) off the coast from the seaside resort, according to a seismic monitoring center in Elham, southeast England.
The British Geological Survey reported receiving more than 300 notifications from the public up to 20 miles from the quake's epicenter.
#KentEarthquake Its all Labours Fault

— Dave Camoron (@EtonOldBoys) May 22, 2015
Police and fire services in the area said there were no reports of damage or injuries as a result of the tremor, which was 260,000 times smaller than the recent devastating 7.8 quake in Nepal that killed thousands and left millions homeless.
It was the biggest quake to hit southern England since 2007 when a two-minute 4.3 quake hit Folkestone, causing "widespread damage," according to the Telegraph newspaper.
Some residents shared their experiences of fear and confusion with the paper, which reported Jo Petite as saying: "The whole house shook. I woke my partner and said there had been an earth tremor. I checked the time, it was 2:56. He got up to make tea; he thought I was mistaken and that a burglar had climbed on to the scaffolding."
He did predict an earthquake, didn't he? #KentEarthquakepic.twitter.com/iOmjN9sl0x

— Stig Abell (@StigAbell) May 22, 2015
Others took to Twitter to post photos of plastic patio chairs being toppled over, with the ironic caption, "We will rebuild."
In a swipe at the UK Independence party (UKIP), whose election candidate last year blamed floods in southern England on "gays," Labour Party supporter Ben of Kent said on Twitter the quake had occurred because the local town of Thanet had elected a UKIP-controlled council.
"Breaking News: Voting UKIP makes God Angry. UKIP Run Thanet hit by earthquake," he tweeted.
Thanet South was also the constituency where UKIP leader Nigel Farage was narrowly defeated in his bid to enter parliament, presumably saving Thanet from an even greater calamity.
The #KentEarthquake has left a path of overused tweets in its wake pic.twitter.com/FFfA1xGNOY

— Felicity Morse (@FelicityMorse) May 22, 2015