​Austerity agenda: 'We can't throw money at the poor,' says Labour MP
Published time: 20 May, 2015 12:25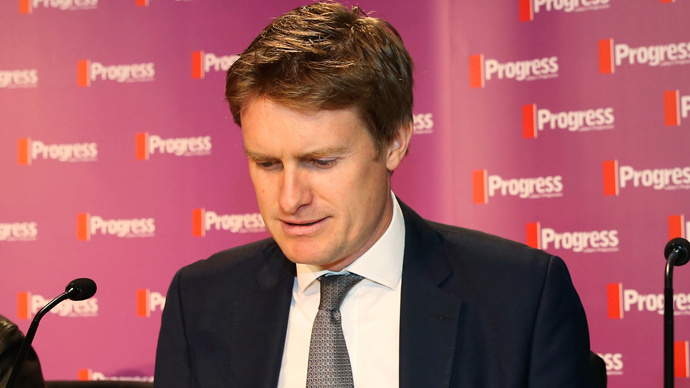 Labour can't solve inequality in Britain by simply covering it with a "monetary sticking plaster," Shadow Education Secretary Tristram Hunt says.
Hunt's comments come as it is confirmed he will not run for the role of Labour chief following Ed Miliband's crushing general election defeat on May 7.
He is believed to have withdrawn from the leadership race when it transpired he would be unlikely to secure sufficient backing from MPs in order to stand.
Those who remain in the race continue in their bids to lead a party reeling from an electoral defeat, which saw it virtually wiped out in Scotland.
READ MORE: Inequality Street: UK most unequal country in EU, worse than US
In a speech on Wednesday morning, Hunt considered the mistakes Labour has made in recent years. He proposed a new path ahead for the party in its post-Miliband era.
"We did not lack for ideas [sic], what we lacked was political courage. In our strategic straitjacket we refused to accept them, to make the argument for them, or to build them into a new sense of mission" he said.
"Of course we need to stop hemorrhaging support in our traditional heartlands. But we must ensure that same heart sends our message — pumps the blood — to parts of our country we no longer reach."
Hunt stressed Labour has lost connection with voters across the UK.
"We need to win in Scotland. We need to win against UKIP. And we need to win whole swaths of southern England where, early New Labour aside, we have long since lost any pretense at an emotional connection," he said.
"If we turn further inwards now, we could wither away. And there is no surer way to let down the people of our heartlands."
READ MORE: Will the rich live longer? Life expectancy gap linked to wealth, study shows
The Cambridge University-educated Labour MP's comments come as the UK Independence Party's (UKIP) only MP Douglas Carswell blogged that his party could "do to Labour south of the border what the Scottish Nationalists have done to the north."
"Keir Hardie's party today shows a patronizing distain for the very folk the party is supposed to represent," he wrote.
"UKIP can offer an alternative to Labour not by aping the left, but by offering something radically different."
Carswell, who abandoned the Conservative Party in 2014 to join UKIP, accused Labour of no longer standing up for "ordinary people against the interests of the powerful."
Hunt's speech comes a day after Britain was labeled the 'European capital of inequality', after a hard-hitting report found the UK to be the most unequal country in the EU.
Conducted by progressive think tank the European Foundation for the Improvement of Living and Working Conditions (Eurofound), the study analyzed wages across the EU from 2004 to 2011.