Cameron appoints 'anti-gay marriage' MP as equalities minister
Published time: 13 May, 2015 13:46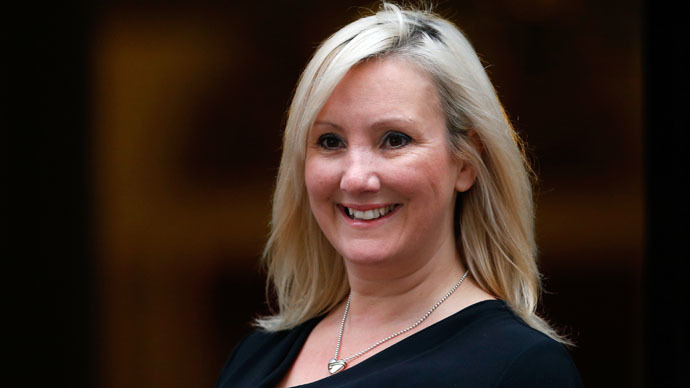 Prime Minister David Cameron has appointed as his new 'minister for equalities' an outspoken critic of same-sex marriage who previously said the state had "no right" to redefine marriage.
Caroline Dinenage, who was appointed parliamentary undersecretary of state at the Ministry of Justice and the minister for equalities at the Department for Education on Tuesday, voted against same sex marriage in 2013.
In the same year she also told LGBT newspaper PinkNews that the "state has no right" to change the traditional meaning of marriage, adding that "preventing same-sex couples from being allowed to marry takes nothing away from their relationship."
In a letter to the publication, Dinenage said the legal definition of marriage was dependent on the church, which states that "marriage is in its nature a union of 'one man and one woman.'"
READ MORE: Tories 'at war' with BBC? Future of state broadcaster unclear under Conservatives
"These proposals were not included in any of the three main manifestoes [sic] nor did it feature in the Coalition's Programme for Government. As I have mentioned, under current law same-sex couples can have a civil partnership but not a civil marriage and I believe that there is no legitimate reason to change this.
"Preventing same-sex couples from being allowed to 'marry' takes nothing away from their relationship," she wrote.
The MP for Gosport faced a wash of criticism after her appointment was announced, but has since tweeted that she is fully in support of same-sex marriage and is committed to furthering the rights of LGBT individuals.
To all the others I want to be clear - I support equal marriage & I'm fully committed to advancing the cause of LGBT equality moving forward

— Caroline Dinenage (@cj_dinenage) May 13, 2015
Education Secretary Nicky Morgan was an equally controversial choice for the position of equalities minister when she was appointed in 2013.
Morgan and Dinenage both voted against the legalization of same-sex marriage in 2013, along with other high-ranking Tories who now sit in Cameron's cabinet, including Michael Fallon, Priti Patel, Robert Halfon, John Whittingdale, Stephen Crab and Jeremy Wright.
PinkNews Chief Executive of Benjamin Cohen said, "Like Nicky Morgan, Caroline Dineage voted against David Cameron's key equality measure, same-sex marriage.
"I hope that just like Nicky before her, Caroline will now announce that she has changed her mind, and recognize the value of marriage equality in England and Wales."