'Ginger Aryan': Cyanide terrorist plotted attacks over 'marginalization,' court hears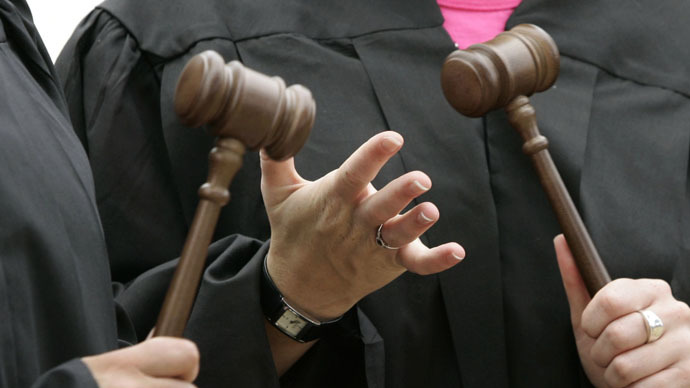 A right-wing 'Aryan' supremacist was allegedly plotting terror attacks to cause a "major dent in England" because he was marginalized by society for being 'ginger', or red-haired, a court heard.
Mark Colborne, 37, told his mental health social worker he was thinking of "killing a large proportion of the population."
Colborne bought poison ingredients and small spray bottles intended to target his victims. He gathered a collection of items including dust masks, funnels, syringes and medical latex gloves to make the poisons in his room.
READ MORE: Terror suspect who wanted ISIS flag to fly over Downing Street faces jail
He claimed he felt "marginalized by society" because of being white and ginger, and compared himself to mass murders Anders Breivik and Timothy McVeigh.
Colborne's hostile feelings towards society fuelled him to plan attacks on "non-Aryans," which would leave a "major dent" in England.
However his plans were soon uncovered when his younger half-brother found disturbing notes and lethal ingredients hidden in his bedroom at his home in Southampton.
His room was also filled with books about explosives and poisons titled 'Silent Death' and 'Assorted Nasties'.
The computer in his room allegedly contained notes on "butchering human carcass for human consumption" and a copy of the Terrorists Handbook.
His half-brother tipped off the police after discovering the chilling evidence in June last year.
Colborne made shocking revelations in his notes about his desires to "get a shot" at Prince Charles and his sons William and Harry with a rifle.
READ MORE: British teen arrested in connection with Anzac terror plot
"I was waiting for an opportunity to kill one of them. Let it be Prince Charles which would be good," he wrote.
Colborne said he would "take up a good position and put a bullet in Charles's head."
He also said he would "sacrifice" his life to kill Charles as the prince is "protected but not too protected."
"Kill Charles and William and Harry, become king. Kill the tyrants," he wrote.
He planned to put a "major dent in England, one that is felt around the world."
Adding "if for some reason I cannot perform a major operation then I will still opt for low-level attacks," he said in his notes.
"I'm looking for major retribution, a mass terrorist attack which will bring to the attention our pain - not just mine, but my brothers around the world," Colborne added.
He also identified with Nazi Heinrich Himmler in his notes and wrote: "I believe a lot about inflicting pain in a struggle because it makes people remember.
READ MORE: Two UK teens held under suspicion of 'terrorism'
"What a dream it would be to form a government in and land not occupied by Caucasian Tyranny and belong to our people to live free," he said.
When referring to Breivik, he said the Terror attack in Norway is "what I was planning to do in England."
"It was poetic and brilliant," he said.
A Nazi Swastika was also discovered in files kept by Colborne, the court heard.
"In these notes he referred to his racial hatred for those who are non-Arayans – who he refers to as 'blacks and Caucasian idiots'," Annabel Darlow QC for the prosecution told the jury.
Colborne "clearly had a troubled childhood and perceived himself as marginalized and belittled by society because he was a white, ginger-haired male," Darlow said.
"He wrote about his wish to commit a terrorist act in order to publicize his own beliefs," she added.
"He compared himself to the right wing terrorist extremists who had gone on to massacre hundreds," she said.
Colborne from Southampton denies preparing terrorist acts on and before July 2, 2014. The trial continues.