Two UK teens held under suspicion of 'terrorism'
Published time: 5 Apr, 2015 20:43
Edited time: 6 Apr, 2015 00:32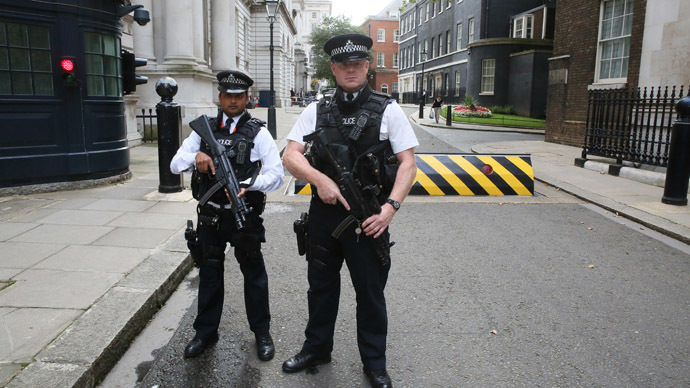 Two teenagers from North West England have been arrested on suspicion of preparing acts of terrorism following two separate raids, police report.
A 14-year-old boy from Blackburn and a 16-year-old girl from Manchester have been arrested as part of an ongoing investigation, according to Greater Manchester Police. They have been bailed until May 28.
Police said the boy was arrested on "suspicion of preparing for an act of terrorism" and the girl "on suspicion of engaging in conduct in preparation for acts of terrorism," Reuters reported.
READ MORE: UK politician's son among 9 arrested for trying to enter jihadi controlled Syria
The mother of the school girl downplayed her daughters role in the alleged terror plot, telling authorities that the teenager "had been playing a joke".
"I am not sure what happened. I think she might have been playing a joke with a friend," she said, Manchester Evening News reports.
The girl's computer and mobile phone have been confiscated by the authorities for further analysis.
The latest arrests were not connected to the nine British nationals from nearby Rochdale who were arrested trying to cross the border into Syria from Turkey, police said.
Nor was there a link to the six people, (five men and one woman in their twenties), who were arrested in a ferry terminal in Dover on Friday night in relation to the Syrian conflict.
Police have been given until next Friday to question them, before they release or charge them, or have to apply for more time so that further questioning can be conducted.
While the cases may not be linked, they illustrate the increasing number of terrorist-related arrests in recent months across the UK, as young men and women try and join Islamic State extremists in Syria.
It is believed that up to 600 Britons have joined the Islamic State, including the high-profile IS executioner Mohammed Emwazi, known as Jihadi John.