​Voting fraud? George Galloway launches legal battle over election defeat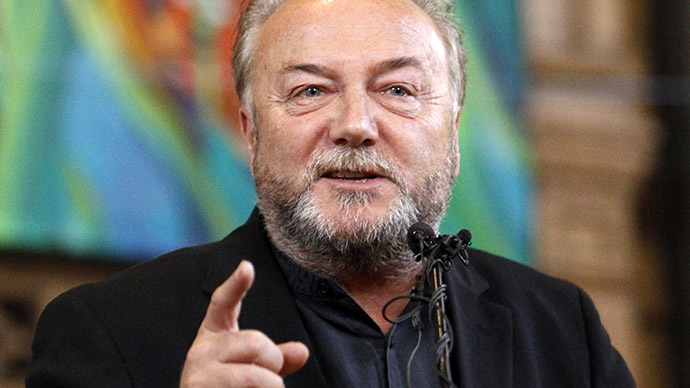 Former MP George Galloway has launched a legal challenge over his defeat at Thursday's general election and claims to have evidence of "malpractice" in postal voting.
Galloway won the Bradford West seat in a 2012 by-election but lost it to Labour candidate Naz Shah on Thursday, who secured a majority of more than 11,000 votes.
Galloway claims the results were affected by "false statements" made by the Labour candidate during the election campaign.
He has accused Shah of lying about him on Urdu-language television and falsely claiming she was forced into marriage.
Shortly before polling day, Galloway filed a complaint to the director of public prosecutions about a nikah (an Islamic wedding certificate) Shah produced to prove she was forced to marry her cousin in Pakistan when she was 15.
READ MORE: UK General Election 2015 LIVE UPDATES
In a piece widely shared on social media in March, Shah said she was forced into marriage "through emotional blackmail" when she was "just 15 years old while in Pakistan."
Shah has announced plans to sue Galloway for bringing the circumstances of her marriage into question.
"Bitter" Galloway also claims to have uncovered "widespread malpractice" in postal voting, and urges for the result to be "set aside."
He is currently "in the process of compiling the information" needed to form part of the petition to have the results rectified.
We've begun legal proceedings seeking to have result of the Bfd West election set aside. I cannot therefor discuss my own election for now.

— George Galloway (@georgegalloway) May 10, 2015
On Twitter, Galloway said: "We've begun legal proceedings, seeking to have the result of the Bradford West election set aside. I cannot therefore discuss my own election for now."
READ MORE: Man jailed for 16 months for attacking George Galloway
In a further statement, he added: "It has come to my notice that there has been widespread malpractice in this election, particularly over postal voting."
A spokesman for Galloway said the legal action is still at an early stage.
The complaint was made under section 106 of the Representation of the People Act 1983, which relates to candidates making false statements during campaigns.
A Labour spokesman called the former Respect Party MP's allegations "pathetic."
Galloway should "accept he was booted out by the people of Bradford West," the spokesman said.
The spokesman says constituents "saw through" Galloway's "diverse politics and made a positive choice to elect a brilliant new MP, Naz Shah."
On Election Day, Galloway was reported to the police for allegedly tweeting about exit polls before voting closed.
His spokesman said the allegation was a "storm in a thimble."