#GE2015 result: David Cameron's Conservative Party wins overall majority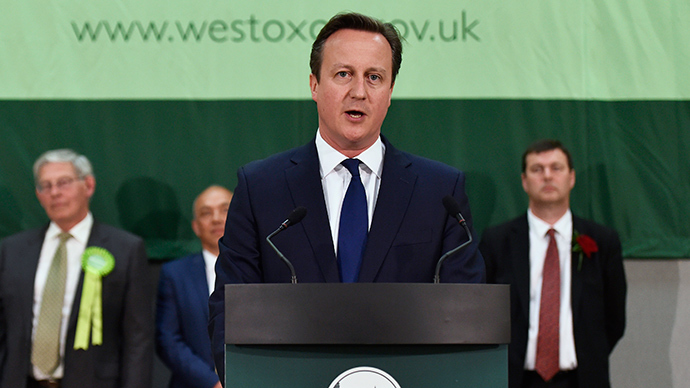 David Cameron's Conservative Party has won an overall majority in the UK General Election. Labour Party leader Ed Miliband has resigned after a crushing defeat, with Lib Dem leader Nick Clegg and UKIP's Nigel Farage also stepping down.
Addressing the nation on Friday afternoon, Cameron confirmed the Tories would form a Conservative majority government.
Cameron, who had just returned from a meeting with the Queen at Buckingham Palace, said Britain "is on the brink of something special."
He acknowledged Britain needs work, particularly with respect to the cost of living crisis and housing crisis, and said these issues are very much on the Conservatives' radar.
READ MORE: UK General Election 2015 LIVE UPDATES
The prime minister said opposition Labour leader Ed Miliband had fought a strong campaign and clearly is in "public service for all the right reasons."
He said a single majority government would be good for Britain, and is generally "more accountable."
The Tory leader stressed the importance of unity, and vowed the Conservatives would govern "one nation." He also pledged to re-balance Britain's economy, building a "northern powerhouse" in the process.
Despite backing a stark rise in university tuition fees in the previous parliament, Cameron said the Tories would strive to offer society's poorest youngsters the chance of schooling and training that would transform their lives.
Earlier this morning, Cameron insisted he wishes to deliver on devolution pledges made after the Scottish independence referendum.
Ed Miliband resigned as Labour leader on Friday, having suffered crushing defeats in the wake of a massive Scottish National Party (SNP) surge. Scottish Labour leader Jim Murphy and Shadow Foreign Secretary Douglas Alexander were among those eliminated.
READ MORE: 'Politicians are puppets': RT explores why a 1/3 of Brits don't vote
While the party made gains at the expense of the Liberal Democrats, Labour failed to capture target seats from the Conservatives in England.
In one case, quite the opposite occurred with Shadow Chancellor Ed Balls being turfed out of his Morley and Outwood seat by Tory Andrea Jenkyns.
Thanking his supporters in Doncaster North, Miliband said it had been a "disappointing and difficult night." He admitted a "surge of nationalism overwhelmed our party" and that he was "deeply sorry for what happened" to his Labour colleagues who lost their seats to the SNP.
The next government will face a "difficult task of keeping our country together," he added.
Cameron's current coalition partner, the Deputy Prime Minister Nick Clegg's Liberal Democrats, have been utterly decimated.
READ MORE: Liberal Democrats decimated across Britain in unprecedented defeat
While Clegg held his seat by an extremely tight margin, every other Liberal Democrat cabinet minister was eliminated. In astonishing scenes, Business Secretary Vince Cable, Treasury Secretary Danny Alexander, former party leader Charles Kennedy, Energy Secretary Ed Davey and Deputy Leader Simon Hughes were among leading party ministers to lose their seats.
As a result, Clegg has formally resigned as leader.
As the dust settles following what has been an extraordinarily tenuous campaign race, David Cameron is set to remain as Prime Minister.
By far the biggest story of election night, however, is the SNP surge. Former SNP leader Alex Salmond, who won his Gordon constituency, claimed "the Scottish lion has roared across the country this morning."
While party leader and Scottish First Minister Nicola Sturgeon cautioned a second independence referendum is not guaranteed by the result, the future of the United Kingdom remains increasingly in doubt.
Other highlights of the night include a win for London Mayor Boris Johnson in Uxbridge and Ruslip South. Green Party leader Natalie Bennett failed to secure her central London seat, but pushed her Liberal Democrat rival into fourth place. Douglas Carswell was returned to office as UKIP's first MP to win a seat in a general election.
You can share this story on social media: