​Top of the polls: Britain's wackiest election voting stations
Published time: 7 May, 2015 12:49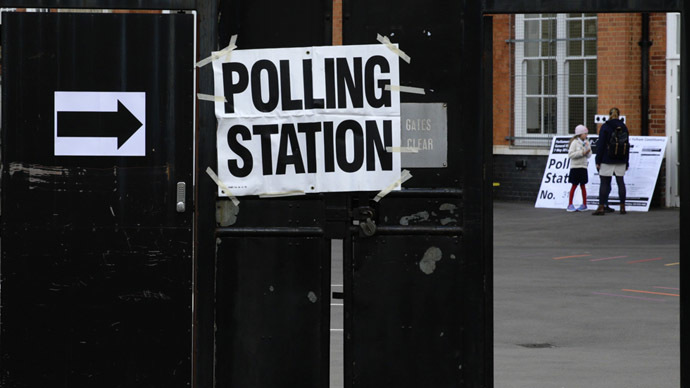 Up and down the country village halls and primary schools are playing host to voters trying to sway the election for their favored MPs. But off the beaten track are some polling stations which have more than a few quirks.
This station will hold you at gunpoint until you vote. Even if you don't want to. It has no time for your principles.
Most dramatic polling station? via @lipstickloripic.twitter.com/rSSa0DduPD

— BBC Newsbeat (@BBCNewsbeat) May 7, 2015
The horticulture at this station really is beautiful, but, wait, what are they doing to that sheep? Some sort of horrible coalition metaphor?
Interesting planter outside the polling station. Not sure the sheep is too happy #votelabourpic.twitter.com/iI9fFeAubP

— Jen Cooke (@superduperfab) May 7, 2015
At least these castles will give you a chance to cast your vote in the peace and serenity of an area steeped in history. It's likely they'd be hit pretty hard by Labour's mansion tax, however, so if you needed an excuse to vote Tory…
Could this be the nicest #pollingstation in the country? #PollingDay#votetoday#VoteLabourpic.twitter.com/Pl7DbTkk9g

— Sarah Meers (@SJMeers) May 7, 2015
Did you know that Somerset has the oldest polling station in the country?: Did you know that Somerset has the ... http://t.co/ESymY5LoKy

— Burnham Weekly News (@BHWeeklyNews) May 7, 2015
These polling containers are very 'efficient' with space.
@mwilliamsthomas Not enough room in our polling Station pic.twitter.com/PAJqtllRjP

— Ian Clark (@icpav) May 7, 2015
Polling station? Looks more like a method of kidnapping voters, like the kiddy catcher from Chitty Chitty Bang Bang pic.twitter.com/07TphQXZSU

— Hollers (@domholroyd) May 7, 2015
Hockerton village polling station in a small caravan #GE2015 © IFIMAGE/Alamy http://t.co/nGSDeDAHD0pic.twitter.com/VH0K9gYjPW

— Alamy News (@AlamyNews) May 7, 2015
At least they have room for adequate facilities, unlike these imposters, who have got a little bit big for their boots.
Not like my local polling station in London! RT @sarahwollaston#DevonHeavenpic.twitter.com/8HddiGMrfZ

— John Chisholm (@DrJohnChisholm) May 7, 2015
Are you SURE you're a polling station? pic.twitter.com/3GMjRZWkKL

— Bradley Tubb (@BradTubb) May 7, 2015
And a special mention to this bin, which has high hopes, and knows it's important to dream big.
My local polling station pic.twitter.com/8j4dvRVLIH

— Karen (@Karenippy) May 7, 2015