Election winners will face wide-ranging strategic challenges – defense think tank
Published time: 6 May, 2015 16:15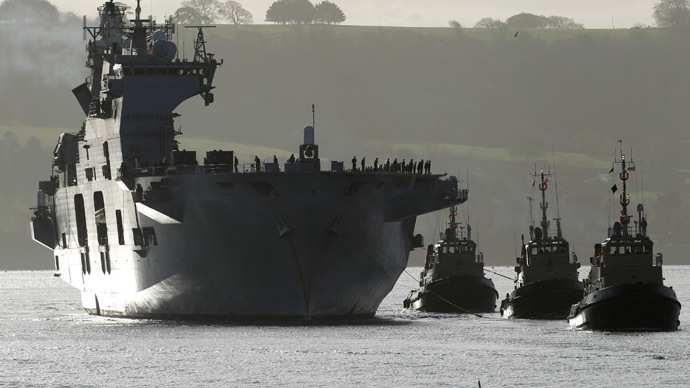 Tensions with Russia, Islamic extremists and a security environment hinged on US-China relations are just some of the strategic challenges this week's election winners must face, according to the Royal United Services Institute (RUSI).
#PeopleNOTpolls: Join the conversation
The Institute, which enjoys close historical ties to the British establishment, has outlined the complex challenges and choices in store for whichever party – or combination of parties – find themselves in power after Thursday's election.
The paper, published Wednesday, was written by RUSI director Malcolm Chalmers, titled "A Force for Good."
It has been published ahead of two important reviews which will take place this year: the National Security Strategy (NSS) and the Strategic Defence and Security review (SDSR).
READ MORE: Govt deems security risks too low to 'exempt defense from austerity,' says think tank
READ MORE: Boost NATO military presence in Eastern Europe - British MPs
READ MORE: Britain's 'dribbling' strategy: Top general blasts anti-ISIS efforts
The paper concedes in remarkably frank language that many recent military actions can rightly be viewed as strategic failures, which, far from advancing global aims, have hindered them.
While framing recent regime change operations in North Africa as largely benevolent, Chalmers writes that the UK and its allies "have found – most recently in Libya – that attempts to use military force as a Force for Good in response to humanitarian emergencies can be counterproductive in their longer-term effect."
Chalmers also posit that the epoch of regime change followed by large-scale programs of "personnel-intensive" social engineering, such as those wrought on Iraq and Afghanistan, has passed.
The paper also takes stock of new and emerging threats. Critically, it does so in light of past interventions in both the Middle East and Europe.
Referring to current heightened tensions with Russia, the paper argues: "One of the lessons that Russia drew from NATO's Kosovo War in 1999 was that the commitment of Western states to a rules-based international order only applied in cases where it suited them."
Yet Chalmers' views run counter to the rafts of potential doomsday scenarios touted by some senior political figures with regards to Britain's current international opponents.
"Neither Putin's Russia nor any of the competing jihadists of the Middle East have anything like the ability that the Soviet Union had to threaten the security of the West."
The paper also suggests Britain's much-hyped aircraft carrier program, which aims to put the first vessel in service by 2018, may absorb rather than increase UK resources and capability.
The debate on Britain's ability or need to contribute a symbolic 2 percent of gross domestic product (GDP) to the NATO military alliance also falls victim to Chalmers' withering inquiry.
"The Atlantic Alliance," he argues, "has done itself serious reputational damage by giving so much emphasis to a target that so few of its member states have managed to meet."
Going forward, Chalmers recommends a return to an older set of defense and foreign policy principles.
"The grand strategy which [the UK] adopted in the 1940s, anchored on a community of fate between the countries of Europe and North America, remains the right one for the country today," he argues.
The strategic reorientation known as the Pivot to Asia, discussion of which was much in vogue in foreign policy circles before the ISIS and Ukraine crises loomed, is still the most pressing issue, according to Chalmers.
"No relationship is more important to the future of international peace and security than the one between the US and China.
"More broadly, the UK has a strong interest in helping to ensure that China's growing power contributes to international stability rather than undermine it."
However, Chalmers suggests that far from large-scale military involvement, the best course for Britain at the moment is to maintain existing levels of military exchange with regional allies like Australia and New Zealand, while strengthening diplomatic linkages.
It is over to the victors after May 7 to heed or reject this prognosis.