​'I'll put a bullet in him': UKIP candidate suspended after threatening to shoot Tory rival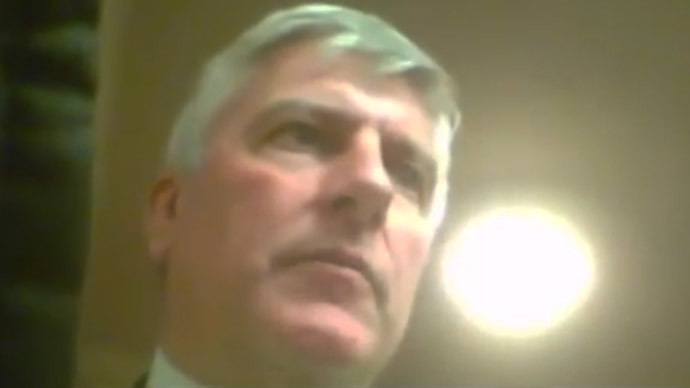 A UK Independence Party parliamentary candidate has been suspended after he was filmed threatening to shoot his Conservative rival and accusing him in racist comments of not being "British enough."
#PeopleNOTpolls: Join the conversation
Robert Blay, 55, standing in North East Hampshire, was caught on camera by an undercover reporter for the Daily Mirror.
The former Conservative Party member also accused his Tory rival, Ranil Jayawardena, 29, of deliberately making his wife pregnant to win votes.
Jayawardena, who is Conservative deputy leader of Basingstoke and Deane Borough Council, said he was "shocked" to hear the comments.
"If this lad turns up to be our prime minister I will personally put a bullet in him," Blay said in the video, outside an event attended by UKIP leader Nigel Farage. "That's how strong I feel about it. I won't have this f***** as our prime minister. I absolutely loathe him."
Blay's rant continued: "It makes me quite sick. But I've always said in my constituency you could put a monkey out there with a blue rosette on and it would win."
He added further: "His family have only been here since the 70s. You are not British enough to be in our parliament. I've got 400 years of ancestry where I live. He hasn't got that."
Blay was previously chairman of the local Conservative association, but defected to UKIP due to disagreements over the European Union.
READ MORE: 'Nigel who?' RT visits South Thanet where UKIP chief Farage pins his election hopes (VIDEO)
He was also recorded suggesting Jayawardena planned the birth of his child to coincide with the general election.
"He's got his missus to drop a kid just before the election. He's planned the birth of the child, there's no doubt about that. He's a slippery b*****d. I've worked with him in the Tories."
Blay was suspended by UKIP after the comments were published by the Daily Mirror.
A UKIP spokesman said: "The views expressed by Mr Blay are abhorrent. As soon as they were brought to our attention he was suspended from the party."
He added: "Any comments of this sort have absolutely no place British politics or public life, and the party would like to take this opportunity to apologize to Mr Jayawardena for any distressed caused."
Another UKIP candidate is facing calls for suspension after lurid remarks about journalist Yasmin Alibhai-Brown emerged from last year.
John Leathley, UKIP's candidate for ex-Prime Minister Tony Blair's old seat of Sedgefield, in County Durham, said the columnist for the Independent "needs a good shag" and to "give one depending on what mood she is in."
The comments were made on Twitter last November while Leathley was watching Alibhai-Brown on BBC's Question Time program.
@y_alibhai "Was wannabe MP John Leathley drunk? Sexist, Racist, and violent." #NotVotingUKIP#ELECTION2015#GE2015pic.twitter.com/mMdMGLMQNu

— Renkian (@_Skendong) May 6, 2015
Leathley, 23, said: "I would like to apologize unreservedly to Yasmin Alibhai-Brown. I read what I wrote now, I am shocked by them and am appalled and deeply ashamed of my words."
Alibhai-Brown described the comments as "sexist, it's racist, it's violent."