'Nigel who?' RT visits South Thanet where UKIP chief Farage pins his election hopes (VIDEO)
Published time: 1 May, 2015 17:33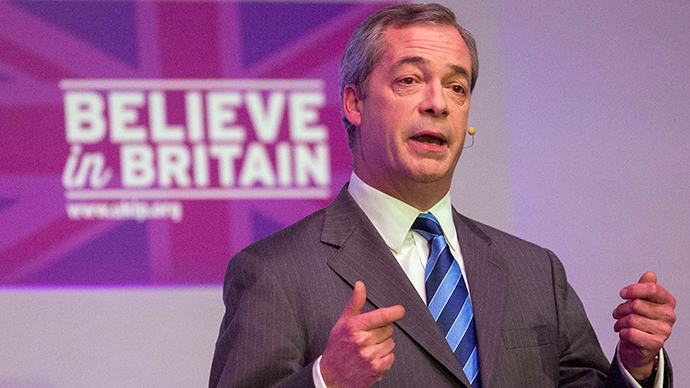 With less than a week to go before the UK general election, RT visits Nigel Farage's target constituency in Kent to ask what locals think of the insurgent UKIP leader.
Farage is narrowly behind the Conservatives in South Thanet constituency, with Lord Ashcroft's latest poll suggesting he will lose the seat by two points to a Tory majority of 34 percent.
A senior UKIP source has dismissed the ominous figures, arguing five points are added when Farage's "national status" is taken into account. "I'm quite content that we're well ahead."
RT visited the seaside town of Margate on the boundary of two constituencies, South Thanet and North Thanet, to ask local residents what they thought of the pint-swilling parliamentary candidate.
The bad news for UKIP, however, despite daily national coverage, is many locals have no idea who he is.
"Who? I don't even know the guy," multiple residents told RT.
South Thanet saw a voter turnout of just 65 percent in the last election, meaning more than 20,000 eligible voters didn't cast their ballot.
This sizeable minority, enough to determine the outcome of the election in the area, consists of many citizens who are completely disengaged from politics.
Others RT spoke to have become so disillusioned with Westminster they have no interest whatsoever in the election.
"I'm not interested in politics at all. Whoever gets in, the working man will suffer," one man told us. "This government doesn't look after the working man. Same with Labour, it used to be for the working man and now it's for the middle class. No good."
Among locals who did know Farage, there were strong opinions voiced both for and against the UKIP leader.
"I love him, I think he's wonderful," one elderly resident told us. "I think he's a great leader and he knows what he's talking about. He's for the British people, 100 percent, and I shall be voting."
READ MORE: Farage defends HIV 'health tourist' comments
READ MORE: Leadership fail: Clegg, Farage, Murphy & Bennett won't be elected, figures suggests
READ MORE: 'EU migrant crisis proposals will open Britain's doors to jihadists,' says Nigel Farage
"He should be the king," another gung-ho supporter said. "I just think he would make a better leader than some of the clowns that are going up now. Like Miliband and co."
"He's good, he stands up for what we want. We've tried all the others and they don't seem to work, so we'll give him a crack this year," another Thanet resident told RT.
"I've got a lot of time for him, I think he's a good chap," a young voter said.
"I don't think he's too bad to be fair," another told RT.
Margate's anti-Farage camp were every bit as vehement in their opposition to the would-be MP as his supporters.
"Sorry, don't want UKIP in. No!" one Thanet resident said. "I just don't think he's got the right idea."
"I think he's a chancer, but he does say the things that he means," a local man told us. "Whether he can carry it out, I don't know. But he's not for me, thank you."
Another local man was less courteous in his opinion of the banker-turned-politician.
"He's a w**ker," he told RT. "He's a racist f***ing w**ker."
"I think he is probably using Thanet as a stepping for his own agenda," a local woman said. "And he's quite small minded and bigoted, and I don't like him very much."
"I think he's trying to rally supporters around the threat of immigration," a young voter said. "Meanwhile he's going to do things like privatize the NHS. Frankly I think other parties are a better solution for this country."
With opinion sharply divided in the constituency, the outcome of South Thanet's election is likely to be determined by a silent minority of undecided and disinterested voters.
This gives UKIP supporters less than a week to answer the pressing question on constituents' lips: "Nigel who?"