Miliband 'conning' his way to power, claims Cameron
Published time: 6 May, 2015 10:15
Edited time: 6 May, 2015 15:19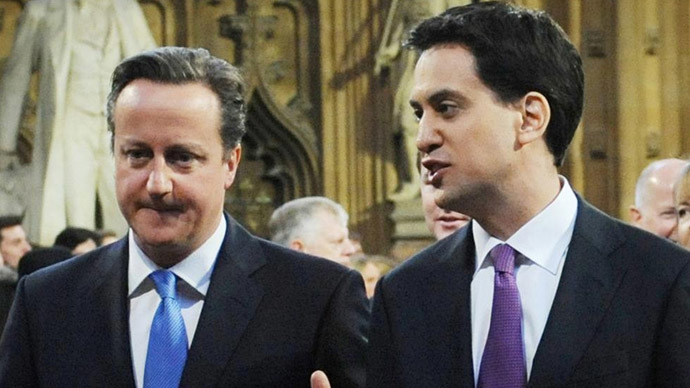 Ed Miliband is attempting to "con" his way into power, according to Prime Minister David Cameron, as his Labour rival lays out his plans for a minority government - with himself at the helm.
#PeopleNOTpolls: Join the conversation
Speaking to reporters on his whistle-stop tour of the UK on the final day of campaigning, the Conservative leader said Miliband was avoiding straight answers about a potential Labour/SNP deal.
"He has said so many different things about no deals or this or that. Basically what he's doing is a con trick," Cameron said.
"You can see what he's doing: 'Look at this strong language about no deals and no pacts, and ignore the fact that I can only become prime minister off the back of SNP votes.'"
Cameron added that if pressed to make an answer, Miliband is likely to accept a deal, despite his previous protestations.
READ MORE: Labour minority government? Miliband appeals for trade union backing
"The question he needs to be asked more directly is 'Are you saying that if there was a hung parliament, and Labour and the SNP had a majority of votes, you wouldn't become prime minister?' If asked that question, I suspect the answer is 'No, I'm not saying that.'"
The PM's comments come as Miliband acknowledged on Tuesday he may fall short of an outright Labour majority after polling on Thursday.
"At that moment he will in the eyes of the British people totally break with what he said about no deals and no pacts with the SNP. The last promise he made before the election will be the first promise he breaks after the election. He knows this and that's why he is not answering this point. That's why it's the monkey he can't get off his back," Cameron added.
On Thursday, Miliband laid out a series of "red-lines" which he said could not be crossed in the event of a Labour minority making a deal with a smaller party.
The most important of the red-lines was the abolition of 'non-domicile' (non-dom) tax status, which Miliband said would be a crucial factor in any prospective parliamentary deal.
"We have our manifesto and I'm determined we implement our manifesto," he insisted. "But I'll give you one symbol, non-dom status," he told the BBC.
"Any government I lead is going to get rid of non-dom status, people that live here, work here, permanently settled here and don't pay taxes here."
"I want one rule for all in this country, and that's the kind of thing that my government – whatever government it is – will do," he added.
The latest polls suggest the Conservatives are likely to win more seats than Labour, but should the SNP make hefty gains in Scotland then a deal could prevent the Tories from taking power.
On Tuesday, Osborne said the Tories would try and force Labour and the SNP to reveal whether they would make a deal to form a majority.
"The government remains the government until there is another government," he said.