Labour minority government? Miliband appeals for trade union backing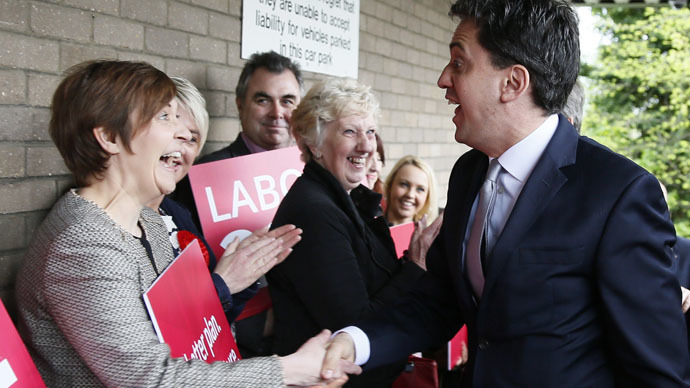 Labour leader Ed Miliband is to seek the support of union leaders to form a minority government after the election on Thursday, it has emerged.
Miliband will hold talks with union bosses at an emergency meeting of Labour's National Executive Committee (NEC), according to the Times.
A member of the NEC told the newspaper Miliband will seek union backing in forming a government without a majority of seats in the House of Commons.
In the last two days of the election campaign, Prime Minister David Cameron is to question Miliband's right to govern as a "losing party."
READ MORE: 'Unforgiveable': Sturgeon berates Miliband for rejecting Labour/SNP deal
READ MORE: Miliband risks 'daily dose of political blackmail' in Labour-SNP coalition – Ex-PM John Major
Current opinion polls predict Labour will win fewer seats than the Conservatives.
Once elected, a Conservative government will need to survive a vote on the Queen's Speech – a test of confidence in a new government.
Plaid Cymru, the Green Party, the Scottish National Party (SNP) and the Social Democratic and Labour Party (SDLP) in Northern Ireland have all signaled they will vote down a Conservative Queen's Speech.
These smaller, center-left parties have said they will support a Labour government, but will use their influence on the party to gain a rise in the minimum wage, more National Health Service (NHS) spending and curtailing austerity measures in Labour's first budget.
If Miliband forms a minority government, he may need to balance demands from these smaller parties while also shoring up support within his own party.
Under internal party rules, Miliband must consult Labour MPs before attempting to form a government without an overall majority in the Commons.
Some pundits speculate Labour will court the Liberal Democrats in the hope of forming a coalition.
In the event of a Labour-Lib Dem government, Miliband could benefit from gaining the support of a centrist party while at the same time diminishing his reliance on SNP votes.
Commentators speculate that Liberal Democrat leader Nick Clegg could also benefit from a deal with Labour, as it may reverse the unpopularity of his party after five years of supporting Conservative-led austerity.
Meanwhile SNP leader Nicola Sturgeon has said a UK government which did not include SNP representation could be illegitimate.
The SNP are set to win around 50 seats on Thursday, making them the third-largest party in the Commons.
Sturgeon said: "A test of legitimacy that should be applied to whatever government is formed after this election cannot simply be that it is the largest party in England.
"The test that must be applied is whether a government can build a majority and win support that reflects the whole of the UK.
"English MPs will always be the largest part of any Westminster majority, but to ignore Scottish voices would be wrong," she added.
You can share this story on social media: