'Unforgiveable': Sturgeon berates Miliband for rejecting Labour/SNP deal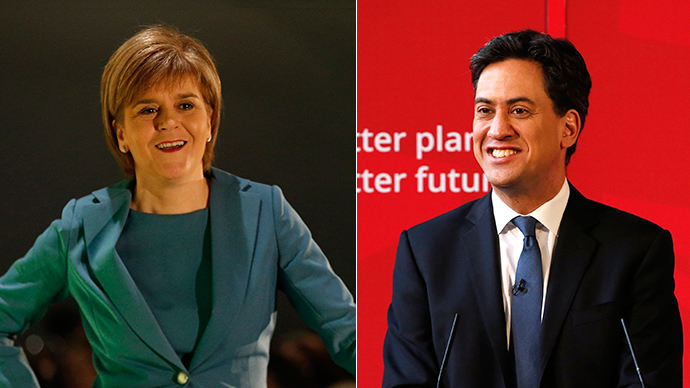 The leader of the Scottish National Party (SNP) says she will never forgive Labour if Ed Miliband stays true to his concrete refusal to a deal with her party, even if it meant allowing the Conservatives back into Westminster.
Nicola Sturgeon's comments follow a statement from Miliband during a special edition of BBC Question Time. He said he would rather not have a Labour government if it was reliant on a "coalition or a deal with the Scottish National Party."

"Let me be plain. We're not going to do a deal with the Scottish National Party; we're not going to have a coalition, we're not going to have a deal.
"Let me just say this to you – if it meant we weren't going to be in government, not doing a coalition, not having a deal, then so be it.
"I am not going to sacrifice the future of our country, the unity of our country, I'm not going to give in to SNP demands around Trident, around the deficit, or anything like that.
"I just want to repeat this point to you: I am not going to have a Labour government if it means deals or coalitions with the SNP. I want to say this to voters in Scotland," he added.
Speaking on "Ask Nicola Sturgeon," the SNP leader said both Miliband and Cameron had to "wake up and smell the coffee and respect the outcome of the election" should neither of them be able to form a majority government.
She also said a minority Labour government would have difficulty passing its proposed budgets without the help of the SNP.
READ MORE: Mixed messages? Murdoch's Sun backs Tories, while Scottish edition backs SNP
Labour politicians have been quick to defend Miliband, with candidates Karl Turner, Jonathan Ashworth and Gloria de Piero tweeting that he had given a "clear" and direct answer to the SNP question.
Scottish Labour leader Jim Murphy added Miliband had "called the SNP's bluff" and urged Scots to realize the only way to get a Labour government in Westminster was to vote for Scottish Labour.
UKIP's Nigel Farage also weighed in, saying Labour voters should consider switching to his party because Miliband would be unable to become prime minister without the SNP.
"I have a feeling after last night's debates that Mr Miliband now cannot be prime minister… It would be the greatest lie of modern British politics for him now to try and form a coalition with the SNP," the UKIP leader told the BBC.
"I think the game changed a bit last night, and I think UKIP's role in this may have changed … Our growth area is with Labour voters, and I think if it's seen that Mr Miliband simply cannot become prime minister without committing that lie, then suddenly those seats in the Midlands and the North in which we are the challengers are seats that we can now win," he added.
The leaders of the three main parties, the Conservatives, Labour and the Liberal Democrats, appeared in a special edition of Question Time on Thursday evening, with each leader receiving 30 minutes of questions from the studio audience.
A poll for the Guardian suggested Cameron had 'won,' as 44 percent of respondents thought he had "done best on the night."
Miliband and Clegg trailed behind the Conservative leader with 38 and 19 percent respectively.
You can share this story on social media: