Over 3,000 UK policemen investigated for alleged assault, 98% remain on duty – report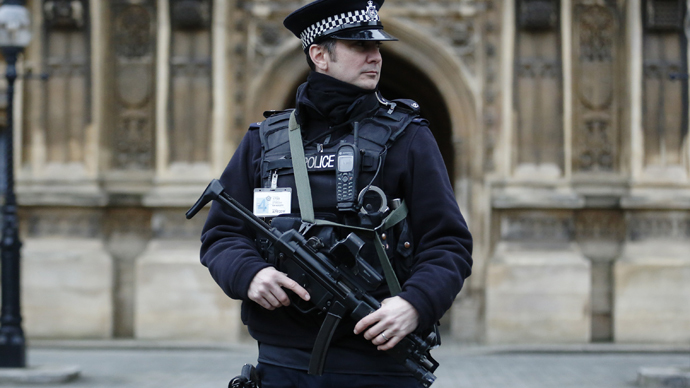 Over 3,000 police officers in the UK are currently under investigation for alleged assault, with only two percent suspended or put on restricted duties, according to a British media investigation.
The Independent has numbered at least 3,082 officers being investigated for alleged "serious","sexual" and "non-sexual" assault.
The paper sent Freedom of Information requests to all 45 UK police forces, but not all of them replied, so the real number could be higher.
Of around 31,000 officers at the Metropolitan Police (MPS) – responsible for law enforcement in London –1,218 are under investigation. Yet, only five have been suspended and another 28 placed on restricted duty.
There are 1,185 Met officers on full duty despite being under investigation regarding 714 alleged assault cases.
Despite that, the MPS spokeswoman told the Independent that the "vast majority" of the Metropolitan Police officers are carrying out their duties "with professionalism and courtesy."
"Where the conduct of staff is proven to have fallen below the standards of behavior expected, the MPS will take robust action to ensure that its staff are appropriately disciplined and that lessons are learnt," she stressed.
Ethnicity of a person filing a complainant has been recorded in 443 cases.
This fact, the paper stressed, raises questions for the Met, which in 1999 was branded "institutionally racist" by High Court Judge, Sir William Macpherson, who reported on the flaw that allowed the murderers of black British man, Stephen Lawrence, to escape justice.
READ MORE: Propaganda police: FoI docs show UK cops spend £36mn a year on PR
But according to the spokesman, even though "elements of disproportionality" remain, the Met Police has made "significant progress" since 1999.
The West Midlands Police was criticized for employing only one black officer last month among 162 new recruits.
According to the paper, people of African and Asian origin are much more likely to complain about police brutality.
Black and minority ethnic people, who make up one in three of the British capital's population, represent 55 percent of the alleged victims of Met police brutality.
The stats are even more staggering in the West Midlands where non-whites represent just 14 percent of the population and nearly 48 percent of alleged police brutality victims in cases where ethnicity is recorded.
"Some officers have it in their heads that any black person, regardless of size, is going to be violent and their response coincides with that in terms of levels of brutality or restraint they use," Tippa Naphtali, community activist from Birmingham, told the Independent.
The London Campaign against Police and State Violence is planning a "Black Lives Matter" protest outside the US embassy on Tuesday.
The action entitled "From Bedford to Baltimore" is being held "to stand with the family and friends of victims of police violence in Baltimore and also victims of police brutality in the UK," the organizers said.
The US city of Baltimore has been engulfed in violent protest recently, following the death of Afro-American Freddie Gray while in police custody.