​Assault rifle used by UK counter-terror police 'doesn't shoot straight'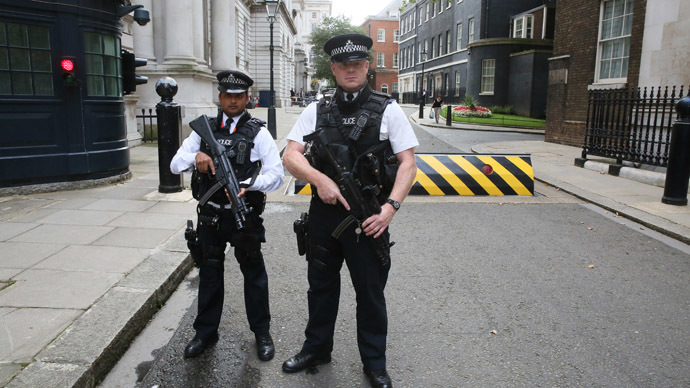 An assault rifle used by Britain's counter-terror police does not shoot straight when fired in warm weather, a new study reveals. With nearly 5,600 in operation in the UK, the study has raised concerns over their continued use.
The G36 automatic assault rifle is now under review as tests conducted by the German army found that, at long range, it is inaccurate by up to 20 feet when the temperature exceeds 86 F (30C). The weapon was also shown to be unreliable when exposed to high humidity and fired repeatedly.
READ MORE: Bulletproof vests issued to UK paramedics, firefighters after Paris shootings
The German army described the firearm as "not fit for purpose." Tests showed bullets were missing their mark by over 50cm at a range of 200 meters. It was also difficult to aim after firing off 60 rounds of ammunition. German Defense Minister Ursla Leyen said the model "has no future."
However, the rifle's manufacturer, Heckler & Koch, have rejected the test results, claiming the gun has never received complaints before, despite being used in over 50 countries.
Between 2,000 and 3,000 G36Cs (a version with a shorter barrel than the standard weapon) are used by police forces in the UK. The Civil Nuclear Constabulary has around 600.
The Home Office Centre for Applied Science and Technology (CAST) will be carrying out a review of the weapon.
READ MORE: Gun shy? Britain blocks military hardware exports to Egypt
The National Police Chiefs' Council (NPCC) told the Mirror the weapon had "not been withdrawn" and would continue to be used by armed officers.
A spokeswoman from the NPCC said there is not enough evidence to support decommissioning the G36C rifle as evaluation of this new report is "still at a very early stage."
"We are looking to see if more testing needs to be done," she added.
"The reliability of any weaponry that the police services use is of paramount importance," said Deputy Chief Constable, Simon Chesterman of NPCC. "We will refer the matter to CAST and ask them to consider the recent findings in Germany and advise us accordingly."
The G36 has been standard issue in the German army for nearly two decades, and a different version was used by British Special Forces in Iraq.
The gun manufacturer says it is "dismayed" by the statements issued by the German Ministry of Defense.
You can share this story on social media: