​Russell Brand backs Greens Party in 'anti-voting' volte-face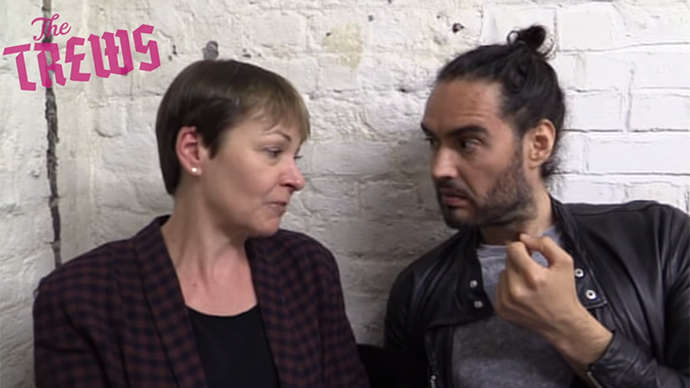 Activist and comedian Russell Brand has surprised pundits by endorsing Green Party MP Caroline Lucas' re-election campaign just days after interviewing Labour leader Ed Miliband on his popular news show, The Trews.
Brand appeared to backtrack on his anti-voting stance to support the Green Party's first MP in her re-election bid in Brighton Pavillion.
The comic discussed a range of issues with Lucas and Green Party leader Natalie Bennett, including voter apathy, corporate control of the political system, the NHS and electoral reform.
Brand also gave a more general endorsement of the Green Party, describing them as "sensible people with sensible policies."
Sitting next to Lucas in a London coffee shop, he told her: "People who live in Brighton Pavilion should definitely vote for you."
Turning to the camera, he said: "Are you a person that lives in Brighton Pavilion? If you are, you should definitely vote for this person, Caroline Lucas."
Brand added his tacit support to the Green Party across the country, while acknowledging under the current political system their influence is limited.
"After the revolution, the Greens are the very kind of people you'd want in charge of running things, not a narcissistic lunatic like myself. You'd have sensible people with sensible policies," he told Lucas.
He went to explain his decision to endorse the Green Party: "When you meet Caroline Lucas and Natalie Bennett [the leader of the Green Party] you think, these are obviously decent people.
"It's like the opposite of what I imagine it's like to meet David Cameron and what I know it's like to meet Nigel Farage – people who are working for the unelected interests that control this country."
Awesome from @CarolineLucas and @natalieben on #TheTrews totally persuaded me we need a united left in this country #labourgreencoalition

— Ewan Breeze (@breezeeboy) April 30, 2015
Brand's endorsement is an apparent reversal of his vocal anti-voting stance, for which he has come under intense criticism in the UK.
The entertainer claims he has never voted because the current political system is "nothing more than a bureaucratic means for furthering the augmentation and advantages of economic elites."
READ MORE: Mili-brand: Comedian grills Labour boss in new episode of 'The Trews'
John Lydon, also known as 'Johnny Rotten' of the Sex Pistols, said Brand's non-voting stance was "the most idiotic thing I've ever heard."
The BBC's Political Editor Nick Robinson labelled Brand a "sanctimonious t***" after the comedian refused to be interviewed for a Radio 4 program about democracy earlier this year.
However, Ed Miliband defended the entertainer, telling Shortlist Magazine: "People criticize Russell Brand, and I don't agree with his message, but what he's saying, a number of people are thinking. Which is that politics doesn't feel like it speaks to them."
Brand featured Miliband on his YouTube news show The Trews earlier this week.
While Prime Minister David Cameron called the interview "a joke," Miliband's performance was generally well received by political commentators.
The Labour leader defended his participation by alluding to wide scale political apathy across the country.
"The danger is that politics is being played in an increasingly empty stadium," Miliband said.
"If we don't recognize that, if we don't engage in different ways with the people who aren't engaging in this election, then we will have fewer and fewer people voting."