Labour woos generation rent with fresh social housing pledge
Published time: 30 Apr, 2015 10:26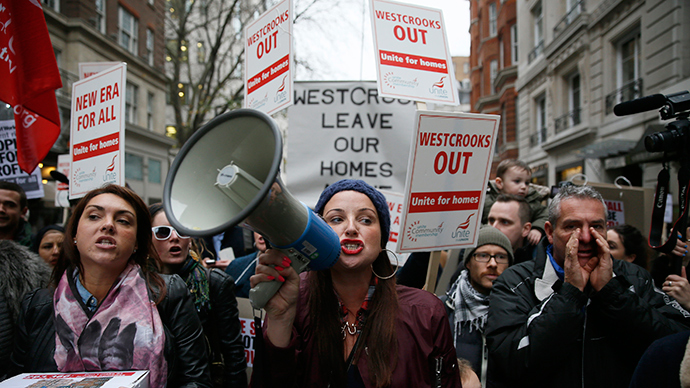 Labour has vowed to reform the social housing system to make it more affordable and transparent in a bid to woo victims of Britain's housing crisis ahead of the general election next week.
"Affordable homes," which are currently defined as being anything up to 80 percent of market rent, would be linked to wages or house prices under Labour plans.
The party's last minute pledge also vows to make secret deals between councils and private developers transparent to avoid developers using "smoke and mirrors" to circumvent building affordable homes.
The balance sheets of housing companies would also be made public, making it difficult for them to claim they won't make enough money if they build affordable homes.
Housing developers' right to appeal if they don't like the number of affordable homes demanded of them on a particular site would also be removed under the reforms.
READ MORE: UK inaction on housing crisis breaches human rights, say charities
READ MORE: Thousands march in London to protest housing crisis
READ MORE: 'Market has not delivered, and never will': Filmmaker Ken Loach decries housing crisis
Labour leader Ed Miliband has already promised to cap increases in private rents at the level of inflation if his party wins power after the general election next Thursday.
The last Labour government's track record on affordable housing is a source of regret for its current leaders.
Under Tony Blair, Labour built fewer than 40,000 additional affordable homes per year in England, less than during the coalition government.
Shadow Housing Minister Emma Reynolds admitted Labour has a "mixed record" on social housing and said it "should have done more" to address the issue when in power.
The number of additional affordable homes built under the coalition fell 30 percent from 2010/11 to 42,870 in 2013/14.
Nancy Taaffe, a candidate for the Trade Unionist and Socialist Coalition (TUSC) standing in Walthamstow, East London, attacked Labour's housing promises on Tuesday.
"Labour's 'target' is to build 200,000 in the last year of a new government. But it is estimated we need 250,000 homes per year just to keep pace with new households – let alone deal with the backlog," Taaffe said in a statement.
"So even if their target was achieved the shortage would still be getting worse. But they don't propose to reverse the cuts to social housing grant or local authority budgets.
"Without doing that even their pathetically inadequate target is likely to prove a pipe dream. To really address the crisis we need to break with austerity," she added.
The coalition government's inadequate response to the housing crisis in England is a breach of international law, according to a study published on Tuesday by Just Fair, a consortium of housing charities.
The report, 'Protecting the Right to Housing in England: A Context of Crisis,' was authored by Jessie Hohmann, a lecturer in law at Queen Mary University, London.
Hohmann argues the UK government is failing to meet its obligations under the International Covenant on Economic, Social and Cultural Rights, which requires its signatories to provide an adequate standard of living.
Of particular concern is the growing number of people sleeping rough in England, which has increased by 55 percent since 2010.
Hohmann says a further 280,000 households in England are at risk of becoming homeless, a 9 percent increase on last year.
Rising property prices in London, which often outstrip other regions in the UK, has been the cause of increasing community friction.
Activists in Brixton protested against the gentrification of the area last weekend, holding banners with signs reading "Reclaim Brixton" and "Black Communities Matter."
As local communities are pushed out of areas they can no longer afford to live in, the demographic makeup of the area changes. While some call it gentrification, others dub it 'social cleansing.'
Protest organizer Laura Mills told Dazed Digital: "The vibrancy, character, diversity and plain human-decency of Brixton and its residents now depends on us coming together and fighting back against money-driven landlords, ruthless developers and an apathetic council."