​Cancer treatment firing 'radioactive glass balls' at tumors undergoes UK trials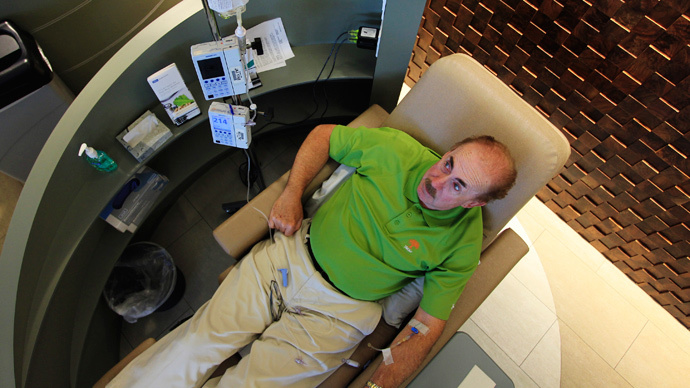 Twenty patients stricken with bowel cancer metastasizing to their liver will undergo a new treatment which involves tiny radioactive glass balls being fired directly into their deadly tumors.
The treatment inserts the glass balls, which are a third of the width of a hair and imbued with a radioactive isotope, directly into the tumors blood supply via a catheter.
After becoming permanently lodged, the balls then destroy the tumor with minimal damage to surrounding healthy tissue.
The tiny spheres can therefore continue to deliver treatment for an extended period of time after initial insertion.
The clinical trial is the first in the UK and will involve comparing the new method with more established ones.
READ MORE: Cancer cure? Scientists discover 'unknown' immunity boosting protein molecule
The treatment has already been approved for use against a number of different cancers in the EU. All the patients taking part in the trials will be volunteers.
Professor Ricky Sharma from Oxford University Hospital's NHS Trust said: "We are delighted that patients in Oxford will have the chance to participate in this clinical trial.
"It offers a new radiotherapy treatment option to patients with colorectal cancer that has spread to the liver when chemotherapy has not worked.
"In Oxford, we have considerable experience of this new, minimally invasive approach to treating cancer."
"We are very excited to be the first center in the UK to offer this clinical trial to patients who meet the eligibility criteria. Within the past month, two patients have volunteered to participate and they have both been enrolled."
Earlier this month a "game changer" protein that promotes the body's immunity to cancer was discovered by scientists, offering fresh hope that the often deadly disease will be conquered in the coming years.
Researchers at Imperial College London discovered a "completely unknown" molecule proven to stimulate the body's immune system to fight off chronic illnesses.
READ MORE: First HIV self-testing kits go on sale in UK
The protein has been branded "unknown" because it does not resemble any other protein, nor does it have a known function.
Researchers say the discovery could "open the door" to new therapies and might potentially defeat cancer and other deadly viruses.
When a person develops cancer, the body fights the deadly virus with T cells, though it often loses the battle.
This new protein, called lymphocyte expansion molecule (LEM), allows the body to produce enough T cells to potentially overcome cancer and other viruses.