Tony Blair: Islamic extremism 'a poison' that 'must be eradicated'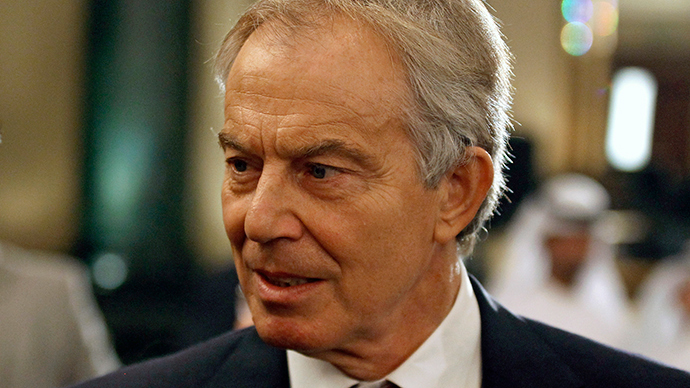 Former Prime Minister Tony Blair has said radical fundamentalism is a "poison that has developed within the religion of Islam," which must be eradicated.
In an interview with John Catsimatidis' 'Cats Roundtable' radio show in New York, Blair said radical fundamentalism is a"poison that has developed within the religion of Islam that does not properly represent Islam, but is nonetheless there, and is encouraged in these extremist activities that then divide the community.
"It doesn't come naturally from within Islam. It's been created. And it must be eradicated,"Blair said.
He urged Western nations to prepare and mobilize to tackle the growing threat of fundamentalism.
"We need to make sure that young people in many of these countries who have been educated to a close-minded view of the world instead get an education towards tolerance and respect for people of different faiths," he added.
READ MORE: 'Geopolitical Robin Hood??' Blair bites back, blames Islam for terror, not Iraq war
READ MORE: 'Palestinians couldn't stand him': Tony Blair may quit as MidEast peace envoy
"If we allow these things to continue, then in the end, the extremists will carry on believing they can get away with this. We need to mobilize a huge amount of support wherever this type of terrorism and extremism is happening, to go make sure it's defeated."
Last week, Blair said in a speed to Bloomberg in London that tackling Islamist extremism should be the main priority on political agendas in the West. He warned that the West cannot stand by and do nothing as conflicts like the one in Syria are ongoing.
"The threat of this radical Islam is not abating. It is growing. It is spreading across the world. It is destabilizing communities and even nations. It is undermining the possibility of peaceful co-existence in an era of globalization. And in the face of this threat we seem curiously reluctant to acknowledge it and powerless to counter it effectively," Blair added.
The ongoing fallout from the 2003 Iraq War – widely held to have contributed to subsequent civil war and the rise of Islamic State – and Blair's alleged dalliance with a variety of authoritarian regimes have earned him considerable censure.
He has been castigated by human rights activists for advising Kazakh President Nursultan Nazarbayev on how to manage criticism sustained in the wake of the 2011 massacre of up to 100 striking oil workers in Zhanaozen.
More recently, his closeness to the military-backed regime of Egypt's Abdel Fatah Sisi has also been under the spotlight.
In November 2014, staffers at global charity Save the Children were enraged when Blair was awarded the organization's Global Legacy Award.
Two hundred of them signed a letter condemning the award as "morally reprehensible."