90 Britons missing as Nepal earthquake death toll rises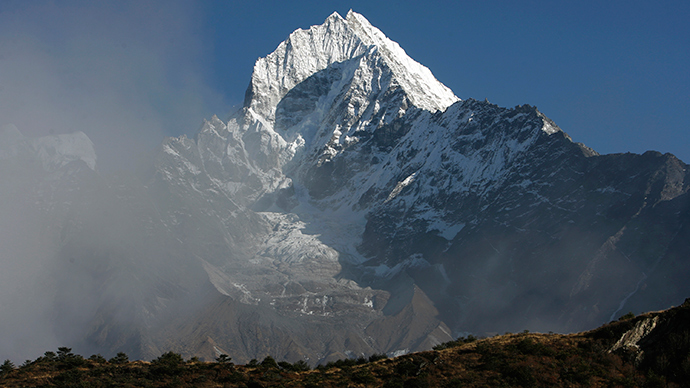 At least 90 British citizens are missing after Saturday's earthquake in Nepal. The death toll has reached over 3,700 and continues to rise.
Rescuers are trying to reach hundreds of climbers trapped on Mount Everest, after avalanches triggered by tremors cut off their route back down. Helicopters are attempting to airlift people stranded on the mountain.
At 7.8 on the Richter scale, the earthquake killed more than 3,700 people across four countries – 3,617 in Nepal.
In the Himalayas, the earthquake triggered avalanches, which killed at least 18 people on Mount Everest.
Tourists from all over the world visit Nepal, especially in spring, to attempt to climb the world's tallest mountain. Around 400 foreigners are believed to still be trapped on the mountain and at its base camp, for fear of further avalanches caused by aftershocks.
Desperate friends and families of foreigners still missing in Nepal have posted pictures and messages on social media, appealing for information on their whereabouts.
READ MORE: More devastation: 6.7 magnitude aftershock earthquake strikes Nepal
Nepalese officials said four helicopters have been deployed on Monday to rescue the climbers stranded at the first and the second camp. Climbers had been cut off from base camp because their climbing ropes and ladders were swept away by avalanches.
Meanwhile, in Nepal's capital, Kathmandu, volunteers are trying to find survivors, many of whom could be trapped under debris. People are too afraid to go inside buildings - even the city's hospitals - as tremors could potentially cause structures to collapse.
"We are in a race against time to get off the mountain," as rescue efforts were hampered by bad weather and storms. "Our tents have all been lost and we have around 18 dead bodies at base camp," James Grieve, 52, told the Sun.
"Rescue teams are struggling to get us help due to the weather and the next few days' forecasts are not great. There is a lot of confusion in the camp and there are still about 120 of us here waiting to be rescued."
Other British citizens including Alex Staniforth, 19, of Chester, expedition leader Daniel Mazur, from Bristol and Sam and Alex Chappatte, from London, were among his group, the Sun reports. Among the missing Britons are Emmet Gallagher, 31, and his wife Sylwia, 35, who were on their honeymoon.
UK Foreign Secretary Philip Hammond said, "There are several hundred British nationals in Nepal at this time of year and we expect that almost certainly some will have been caught up in the earthquakes. But at this moment we have no reports of any British nationals killed or injured."
"British embassy staff have helped over 200 British nationals who've presented at the embassy directly," he added.
Britain has released £5 million in aid for the international relief effort, including £2 million for the British Red Cross.
The Department for International Development (DFID) has deployed a team of more than 60 search-and-rescue responders and medical experts to help with the relief effort, carrying more than 11 tons of kit, including torches, axes, rope, search cameras, stretchers and tents.
READ MORE: Top Google executive killed in Nepal quake, 100s of foreign tourists missing
"As the death toll rises and the scale of this devastating earthquake becomes evident, the UK is continuing to do everything it can to help all those affected by this tragedy," International Development Secretary Justine Greening said.
"I have now activated the Rapid Response Facility. This means we can fast track funding to aid workers on the ground so they can provide desperately needed supplies including clean water, shelter, household items and blankets."
Meanwhile, the Himalayan Times reported that there could have been as many as 20,000 foreign tourists in Nepal at the time of the earthquake.
Jon Bennett, from Oxford Development Consultants, had travelled to Nepal two weeks ago on behalf of the UK government to assess how prepared Nepal was for an earthquake.
"We knew, when we were looking at the situation out there, that if there was going to be a very large earthquake like this, the level of the preparedness in the country was nowhere near sufficient to cope with the kind of events that were likely to unfold, as indeed has been the case," he told BBC Radio 5.
You can share this story on social media: