EU hawks and eurocrats fear weak British government after general election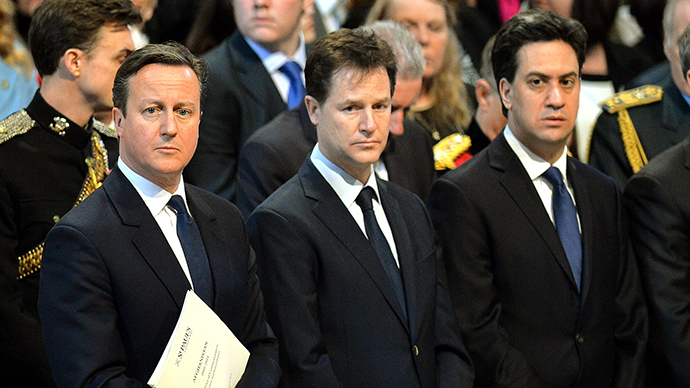 The ferocity of Britain's general election race is beginning to phase Britain's European allies who are fearful it will result in a weak government, paving the way for the UK's exit from the EU.
As the Eurozone crisis rages on and geopolitical threats prevail internationally, Eurocrats are watching Britain's general election campaign closely.
EU politicians and diplomats are growing increasingly concerned over the prospect of an election deadlock, a minority government or a coalition government post May 7.
Other EU leaders are said to be fearful the next British government will be incapable or unwilling to engage in leading EU issues, and will push for a possible Brexit.
Jacek Rostowski, senior advisor to Poland's prime minister, said the UK is key to Europe's strength.
READ MORE: 'Brexit' from EU could cost UK economy £56bn each year – think tank
"Anything that weakens the UK also weakens Europe, and weakens NATO," he told the Financial Times.
David Cameron's Conservative Party, which has had a close relationship with many eastern European governments since 2010, has pledged to hold a referendum on Britain's EU membership in 2017.
By contrast, Ed Miliband's opposition Labour Party says it will not hold such a referendum if it wins May's general election.
Labour is generally perceived by conservative factions of the EU as less hawkish, and therefore less reliable on defense matters. Particular concern has surfaced regarding the prospect of Labour forming a coalition with the Scottish National Party (SNP), which has made clear its intentions to scrap Britain's nuclear deterrent Trident.
The prospect of a Brexit has also roused concern in the EU's leftist factions, with France's ruling socialists opposing a UK exit.
Laurent Fabius, foreign minister of France, said a Brexit would hold negative consequences for Britain and Europe.
"There are things to reform, simplifications, of course, but there cannot be cherry picking. If you join a soccer club, you cannot play rugby half way through," he told the Financial Times.
READ MORE: Juncker doesn't have authority to delay EU treaty changes, say Tories
Relations with a number of the UK's key eastern European allies began to fray after the Conservative Party gained power in 2010, as Poland, Romania and the Czech Republic became increasingly irked by the rise of euroskepticism in Britain and its implications for the free movement of citizens across the EU.
However, relations have thawed somewhat since the Ukraine crisis began in 2014. In a bid to apply pressure to the Russian government, Britain, Poland, Sweden and the Baltic states have formed a hardline bloc and imposed sanctions on Moscow. Their actions in this regard have been perceived as more aggressive than those of more cautious states such as France and Italy.
In recent times, Cameron has supported eastern European calls for further pressure to be applied on Moscow. But as the general election countdown continues, hawks throughout the EU fear Britain's domestic political pursuits could jeopardize its efforts to neutralize the perceived threat emanating from Russia.
Doubt has emerged whether a new British prime minister, burdened with power-sharing pressures and internal party tensions, will invite big concessions from EU leaders for fear they could be confronted by further demands.
Eurocrats also reportedly fear tense, drawn out EU renegotiation with Britain could divert attention from urgent issues such as the Mediterranean migrant crisis and Greece's standoff with EU and international creditors.
The prospect of a British government led by Labour's Ed Miliband, who has pledged further immigration controls, is viewed ambiguously by EU leaders who consider the free movement of citizens to be a founding principle of the bloc.
Analysts suggest the next British government can expect a confrontation with Brussels irrespective of who is in the driving seat.
READ MORE: EU is 'off the rails', needs reforms – UK foreign secretary
An Election Compass UK poll, published on Sunday, revealed a mere 22.4 percent of UK citizens support Britain leaving the EU. While 43.6 percent of those polled said they back an EU membership referendum, the vast majority said they did not support a Brexit.
Britain's general election race is also being closely watched by politicians in Dublin, some of whom warn a Tory victory could prove disastrous for the Irish economy.
They argue a UK exit from the EU would rattle Ireland's economy, which currently benefits from a £730m (€1bn ) trade relationship with Britain that supports 400,000 jobs.
London-Dublin has morphed into the busiest international air route across the globe, with Ireland ranked as a bigger destination for UK exports than India, Brazil, China and Russia combined.
A mere 12 percent of exports generated by US multinationals headquartered in Ireland head to Britain. As a result, firms such as Apple, Intel, Google and Facebook would cope if Britain left the EU. By contrast, Ireland's small and medium-sized enterprise sector – as distinct from tax-avoiding multinationals such as Google – export 43 percent of their goods to Britain.
In a bid to prepare for all eventualities, Ireland's Prime Minister Enda Kenny has founded a special government unit to formulate contingency measures.
You can share this story on social media: