Islamic State Health Service? ISIS launch British-inspired NHS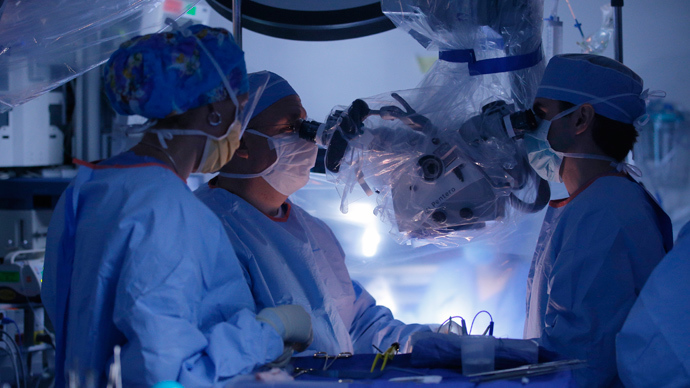 The Islamic State has released a video unveiling its latest caliphate initiative: a health service which shares remarkable similarities with Britain's National Health Service (NHS).
Posted on social media late Thursday night, the video publicizes the Islamic State Health Service (ISHS), written in a style almost identical to NHS branding in Britain, the MailOnline reported.
It is being advertised as the 'Islamic State Dewan of Health'. The background of the photo may depict doctors performing operations in the IS stronghold Raqqa.
New #ISIS video coming soon.Introducing the rather hypocritical Islamic State Health Service (ISHS).#NHS#jihadistylepic.twitter.com/D6tewA0wli

— Tom Wyke (@TomWyke) April 23, 2015
The doctor in the video is also pictured wearing pale blue surgical scrubs, which are not dissimilar to the ones worn by British surgeons and pictured on UK health leaflets.
The video comes after it was revealed a number of British doctors and trainees have fled the UK to join Islamic State militants in Syria.
In March, nine medical students travelled to Syria, telling their families they were going to help treat victims of the civil war.
The students were of Sudanese origin and had been studying in Khartoum, but were from the same diaspora in the UK.
Families of the four men and five women travelled to the Syrian border with Turkey in an attempt to persuade their offspring to return home.
One Turkish opposition politician, Mehmet Ali Ediboglu, said he believed the young medics had been brainwashed.
"They have been cheated, brainwashed. That is what I, and their relatives, think," he said.
"We all assume that they are in Tel Abyad now, which is under IS control. The conflict out there is fierce, so medical help must be needed."
He added that given their medical background it was unlikely that they had joined the fray.
"Let's not forget about the fact that they are doctors; they were there to help, not to fight."
READ MORE: Britain's 'dribbling' strategy: Top general blasts anti-ISIS efforts
The students have been named as Lena Mamoun Abdelgadir, Nada Sami Kader, Rowan Kamal Zine El Abidine, Tasneem Suleyman Huseyin, Ismail Hamdoun, Tamer Ahmed Ebu Sebah, Mohammed Osama Badri Mohammed, Hisham Mohammed Fadlallah and Sami Ahmed Kadir.
The MailOnline also speculated that another British radical, Aqsa Mahmood, could be drafted into the Islamic State Health Service.
She was revealed to be the extremist who posted online as Umm Layth and was responsible for recruiting impressionable young women to the Islamic State.
Mahmood studied radiography at Glasgow Caledonian University and was planning to become a doctor before travelling to the Islamic State in 2013.