Arms maker BAE Systems takes control of failing school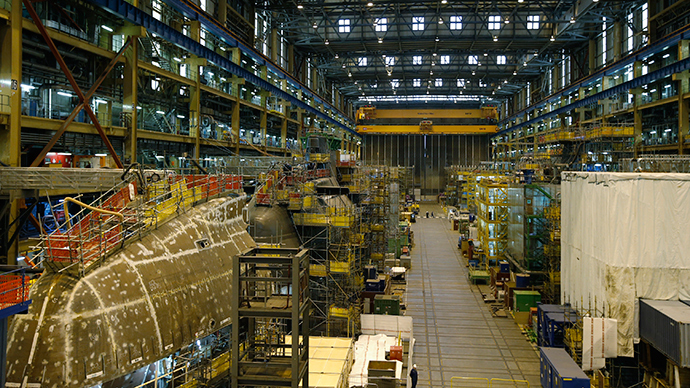 Europe's largest arms manufacture BAE Systems has become the main sponsor of an under-performing school in the North West of England.
From September the arms marker, which operates a dockyard in Barrow-in-Furness, will run the Furness Academy, which was created under the coalition government's academies scheme by joining together three failing schools in the area.
BAE previously tried to donate £400,000 to the academy in 2007, while the firm was under investigations of corrupt dealings.
The arms company is responsible for the construction of nuclear submarines at its base in the town, which are used in the controversial Trident program. The firm had a £15.4 billion turnover in 2014.
BAE has set up a trust to run the school under its submarine-building arm. Campaigners worry the move will have an impact on the curriculum.
Sam Robinson, university coordinator for the Campaign Against the Arms Trade (CAAT), called the decision "deeply worrying."
"The idea [BAE] could soon be playing a significant role in running one of our schools is deeply worrying.
"It … gives them direct access to potential future employees and often allows them to influence the curriculum to suit their employment needs."
READ MORE: BBC arms trade ties troubling, BAE boss must resign from Trust – campaigners
Robinson said the move means the school would be run on "profits from selling arms to some of the world's most oppressive dictators."
The arms company will be tasked with boosting the academy's performance. The school has been in special measures since 2012, following a spate of poor Ofsted inspection results. The schools' watchdog says improvements have been much too slow.
Tony Johns, the managing director of BAE Systems Submarines, said in a statement: "We have for a long time supported local education at primary, secondary and college level, and see this positive step as an extension to our commitment in helping Furness Academy provide its students with the best possible education."
BAE has not issued a comment on the agreement.
Mallen Baker, a strategic advisor for corporate social responsibility, told Schools Week it was quite normal for local companies to invest in local education and, despite BAE's arms dealings, the firm is simply investing in the future of the town.
"Employers recognize that the quality of local recruits is influenced hugely by their quality of education," he said. "Companies that invest in the local community will also get higher loyalty rates.
"With BAE there is an additional factor – they deal with a controversial product. But armament is essential for the defense of the country and we believe in the right for our countries to defend themselves."
You can share this story on social media: