'Victim blaming' judge says murdered girl put herself 'in vulnerable position'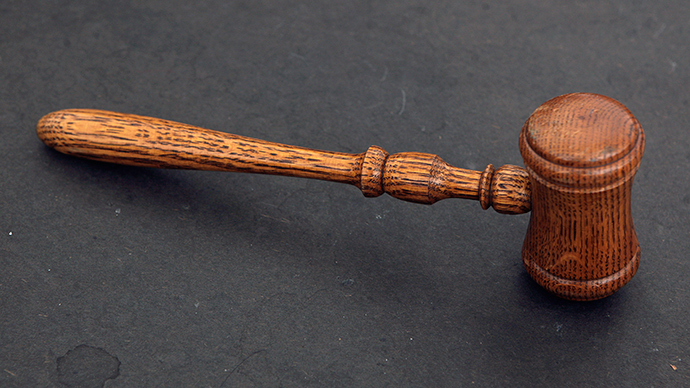 A judge has caused a furor by suggesting a student who was murdered after a night out in Scotland "put herself in a vulnerable position" by drinking.
Karen Buckley, a 24-year-old student from Glasgow Caledonian University, went missing on Saturday April 11 after a night out in the city's West End.
After a "demoralizing" four-day hunt, Buckley's body was discovered near a farm in North Glasgow on Thursday April 16.
Missing person Karen Buckley last seen outside Sanctuary nightclub on Dumbarton Rd. Phone 101. pic.twitter.com/RSESuV8fwU

— Police Scotland (@policescotland) April 13, 2015
Buckley's friends who were with her the night she disappeared claimed she had only consumed a few drinks before leaving the nightclub.
However, at a court hearing the day after her body was found, Buckley's father implied she had been drinking heavily on the night she went missing.
CCTV footage captured Buckley walking from the nightclub, and it was confirmed she went to a man's flat in Kelvinside, Glasgow.
Detective Superintendent Jim Kerr provides update on Karen Buckley investigation. He thanks the media and public for their assistance.Posted by Greater Glasgow Police Division on Thursday, 16 April 2015
Only a day after Buckley's remains were found, District Judge Nigel Cadbury made "outraging" comments, suggesting she had put herself in a "vulnerable" position by drinking.
Karen Buckley killing: Judge suggests student 'put herself in vulnerable position' by drinking pic.twitter.com/Bd2uUcmNRg

— Telegraph News (@TelegraphNews) April 23, 2015
"I find it incredible that young people can get so drunk that they don't even know who they're with," the judge said.
"One only has to think about the horrible situation in Glasgow to see how serious this could have been," he added.
Cadbury says he finds it "very worrying" how young girls, put themselves in "very vulnerable positions."
His comments caused outrage among campaigners, sparking controversy on social media.
Victim-blaming at a time of acute hurt. When are we going to focus on those who commit violent crimes against women? http://t.co/VuLGrE7CJ8

— Vonny Moyes (@vonny_bravo) April 23, 2015
For a judge to say that Karen Buckley "put herself in a vulnerable position" by drinking with friends is absolutely shocking !!

— Rachael (@rachaelmoffat22) April 23, 2015
"No one can gain consent from an intoxicated person," women's right activist and councilor at Rape Crisis Michelle Bergh told RT.
"So regardless of the prosecutor's feeling that the survivor has placed themselves in a vulnerable position by drinking alcohol, the onus is on the alleged perpetrator to obtain consent."
READ MORE: Consensual sex widespread in UK prisons, study finds
Bergh told RT she feels "strongly" about situations like this, and victim blaming can cause a "devastating impact" on the families of the victims and survivors.
In "unacceptable" situations like this, the "perpetrators remain invisible," Bergh said.
End Violence Against Women Coalition's Acting Director Sarah Green said the judge "seems to be perpetuating the idea that young women drinking put themselves at risk of attack."
Green says we have to look beyond this idea and the focus on "women's behavior regarding rape and shift it to the men who choose to commit these crimes."
"Violence against women is not inevitable," she added.
The outrage continued on social media, where one Twitter user said they are "disgusted" by the judge's comments.
There was no solid evidence of Buckley being drunk on the night she disappeared, a Twitter user said. "You know they would blame the woman" in this situation.
Things that cause rape/murder: rapists/murderers. Can we stop focusing on victims making themselves 'vulnerable'? http://t.co/DPRG7yQ78k

— Rachel Carey (@rach_carey) April 23, 2015
The vile judge said Karen Buckley made herself "vulnerable" by drinking. Victim blaming perpetuates a culture of violence against women.

— Miriam Brett (@MiriamBrett) April 23, 2015
That judge has some nerve saying Karen Buckley put herself in a vulnerable position which led to her murder.

— Declan (@__declanallan) April 23, 2015
"Can we stop focusing on victims making themselves 'vulnerable'?" another user asked, suggesting such a stance could cause rapists and murderers to commit these crimes.
Another user branded the judge "vile," adding "victim blaming perpetuates a culture of violence against women."
However, another user conceded "drink puts women in danger" but added the judge's claims will definitely "upset a lot of people."
Alexander Pacteau, 21, Charged with Murder and Attempting to Defeat the Ends of Justice http://t.co/Z8KEdt7NOYpic.twitter.com/QPKpPEXs0i

— Her.ie (@Herdotie) April 17, 2015
Alexander Pacteau, 21, appeared in court and has been charged with the murder of Karen Buckley.
The news comes as Rape Crisis London launched its #ThisDoesntMeanYes campaign, which went viral on social media.
The @RASASC_London#thisdoesntmeanyes campaign has got @lenadunham written all over it! http://t.co/qGi1oZUILkpic.twitter.com/rR1q6Um7SC

— Nathalie Gordon (@awlilnatty) April 21, 2015
The aim of the campaign is to share the message that no matter how vulnerable someone looks, it should never be an invitation for sexual assault or rape.