​F1 boss Ecclestone gives Azerbaijan European Grand Prix, despite human rights concerns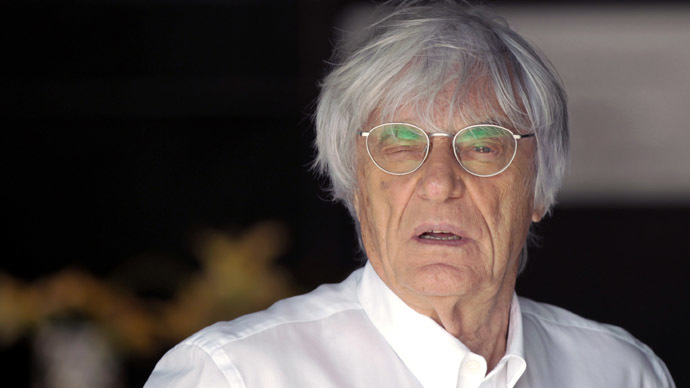 Formula 1 commercial chief Bernie Ecclestone says the Azerbaijan Grand Prix will take place next year, despite international criticism of Baku's human rights record.
Ecclestone said on Sunday there "doesn't seem to be any big problem" in Azerbaijan.
"Baku? No problem. That's going to be another good race," the 84-year-old told reporters at the Bahrain Grand Prix.
This comes after human rights groups have condemned Azerbaijan for the imprisonment of more than 30 rights activists, journalists, and opposition politicians in the past year.
Ecclestone, however, said Formula 1 did due diligence and checked Azerbaijan's human rights record.
"I think everybody seems to be happy," he said while in Bahrain. "There doesn't seem to be any big problem there.
"There's no question of it not being on the calendar. It's going to be another good race."
READ MORE: Amnesty condemns Bahrain's 'rampant' human rights abuses days before F1 Grand Prix
Not everybody is happy, though. A damning report by Human Rights Watch in 2015 said the Azerbaijani government "escalated repression against its critics, marking a dramatic deterioration in its already poor rights record."
Imprisoned activists include: rights activist Leyla Yunus, whose husband is also jailed; Khadija Ismayilova, an investigative journalist; human rights lawyer Intigam Aliyev and youth activist Rasul Jafarov.
The report added: "The authorities convicted or imprisoned at least 33 human rights defenders, political and civil activists, journalists, and bloggers on politically motivated charges, prompting others to flee the country or go into hiding.
"Authorities froze the bank accounts of independent civic groups and their leaders, impeded their work by refusing to register foreign grants, and imposed foreign travel bans on some.
"Many of those detained complained of ill-treatment in police custody. Many organizations, including several leading rights groups, were forced to cease activities."
READ MORE: Several military reported dead in Nagorno-Karabakh conflict escalation
Azerbaijan is due to host the inaugural European Games this year, after failed bids for the 2016 and 2020 Summer Olympics.
Last week, Formula 1's website carried a legal notice stating: "The Formula 1 Group is committed to respecting internationally recognized human rights in its operations globally."
"Whilst respecting human rights in all of our activities, we focus our efforts in relation to those areas which are within our own direct influence."
Meanwhile, the German Grand Prix was taken off the 2015 schedule because of financial problems and it is uncertain whether it will be held next year, with the future of Italy's famed Monza race also unclear.