​TTIP vs Democracy: London activists to resist controversial EU-US trade deal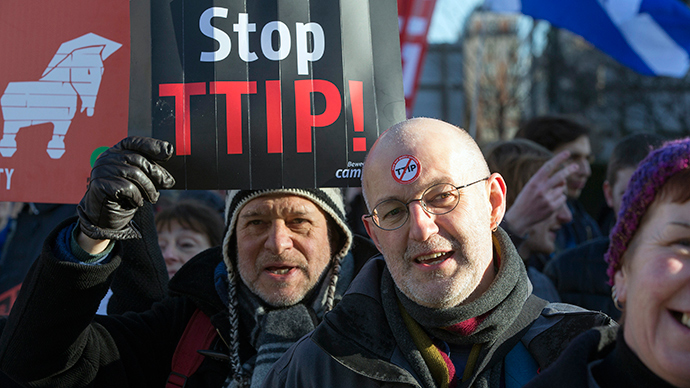 Hundreds of political activists will gather in London on Saturday to protest a controversial EU-US trade agreement campaigners warn will enhance corporate power, and promote the privatization of vital public services.
The trade deal, known as the Transatlantic Trade and Investment Partnership (TTIP), is currently being negotiated behind closed doors in Brussels. It has been the subject of heated criticism among academics, campaign groups, austerity campaigners and economic policy activists across the globe.
Saturday's demonstration in West London is due to kick off at noon on Shepherds Bush Common. It has been organized by British campaign groups War on Want, Global Justice Now, Keep Our NHS Public, Brick Lane Debates and Students Against TTIP.
READ MORE: 'Opaque & undemocratic': TTIP a threat to NHS & public services, say MPs
It forms part of a global day of action, consisting of over 400 separate events, organized to raise awareness of TTIP's implications. A major concern is the trade deal's power to strip nation states of crucial labor, environmental and consumer protections.
The demonstration on Shepherds Bush Common will begin with an outdoor assembly, attended by a group of speakers who will address what they see as TTIP's shortcomings. The campaigners will then depart from the West London park in a bid to target a group of yet-to-be announced TTIP backers from Britain's corporate sector.
TTIP has been the subject of intensifying criticism of late both at home and abroad.
READ MORE: 'Privatised and exploited': MPs debate bill to protect health service from TTIP
In March, a Business, Innovation and Skills committee report condemned the government's stance on the trade deal, and called for further evidence relating to its supposed positive impacts.
TTIP has also been met with hostility across Europe, with a European Parliament (EP) vote on the deal recently being postponed after a draft resolution led to almost 900 proposed amendments.
British politicians, including Prime Minister David Cameron, have lauded the deal's potential to create economic growth in Britain and Europe. But earlier this month, Sigmar Gabriel, the chairman of Germany's Social Democrats (SPD), said he didn't "believe in the wondrous calculations for economic growth from TTIP."
Trade campaigner for Global Justice Now, Guy Taylor, said the general election campaign is a key time for reflection on the potentially damaging impacts of TTIP.
"Politicians promise so much to ordinary people in the UK, but what they would be able to do would be dramatically limited if TTIP was implemented and corporate interests are brought to bear on so many decisions of government," he said.
"We need to ensure that our democratically elected officials are free to act in the interests of the people they serve, rather than in the interests of corporate profits."
You can share this story on social media: