​Tories bankrolled by hedge funds in offshore tax havens, new analysis shows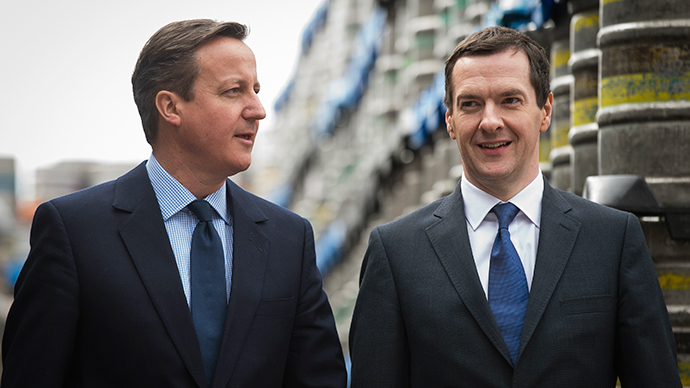 Conservative Party candidates are bankrolled by hedge fund donations siphoned to Westminster from lucrative tax havens including the Cayman Islands, new analysis suggests.
Figures released on Thursday by the Electoral Commission detail donations received by Britain's political parties since the general election campaign began.
Sixteen of Europe's 50 most prolific hedge funds are financing the Conservatives. Each of these funds is nestled in a far-flung offshore tax haven, the data reveals.
Critics suggest the Conservative Party's outward opposition to tax avoidance is politically motivated lip service, with no firm basis in policy.
The Labour Party said the data is evidence of the Conservative Party's intimate relationship with wealthy financiers.
READ MORE: Fake donor 'buys influence' with Britain's leading political parties
The party's Shadow Cabinet Office minister Jon Ashworth said it is unsurprising the Conservatives are failing to tackle tax avoidance when their most lucrative donors own hedge funds situated in tax havens.
"The Tory campaign is bankrolled by big money donors from hedge funds because the Tory membership is hemorrhaging," he added.
Hugh Sloane and George Robinson, co-founders of hedge fund Sloane Robinson, have collectively handed almost £950,000 to the Conservative Party. A number of their funds are strategically located in the Cayman Islands.
Both financiers were hit by allegations of tax dodging in 2012 after investing in a tax avoidance scheme used by City banks and footballers.
A judge said at the time the Guernsey-based trust was purely "cosmetic," and ordered them to pay back millions.
Speaking to the Guardian, Sloane said Labour's critique of the Conservatives financial backing shows the party misunderstands the hedge fund industry.
"They are barking up the wrong tree. We have done nothing wrong, and we are paying taxes in the UK," he said.
READ MORE: 'Hedge fund lobbying': Tories wine and dine 45 tycoons in 12 weeks
Another leading hedge fund donor who has given generously to the Conservatives is Michael Platt of BlueCrest Management.
Platt, who founded the Jersey-based firm, has reportedly offered £125,000 in total to the Conservatives.
Additionally, Paul Ruddock and David Craigen, from hedge fund Lansdowne Partners, have given more than £900,000 to the Tories. The firm has funds in both the Cayman Islands and Delaware. Although Ruddock officially stepped down from Lansdowne Partners in 2013, he remains a Conservative Party donor.
Twelve of the 16 hedge funds bankrolling the Conservatives have at least one fund in a Cayman Island tax haven. The Caribbean islands are a leading global financial center, and are particularly popular with the international hedge fund industry.
Prime Minister and Conservative Party leader David Cameron announced plans in 2013 to tackle financial secrecy, clamp down on tax avoidance and make tax havens linked to Britain more transparent.
However, despite his assurance Britain's crown dependencies and overseas territories would create registers to identify the owners of secretive shell companies and trusts based in these tax havens, no progress was ever made.
Most of the relevant tax havens – including the Cayman Islands and Jersey – later confirmed they would not be implementing Cameron's proposed reforms.
You can share this story on social media: