​Fake donor 'buys influence' with Britain's leading political parties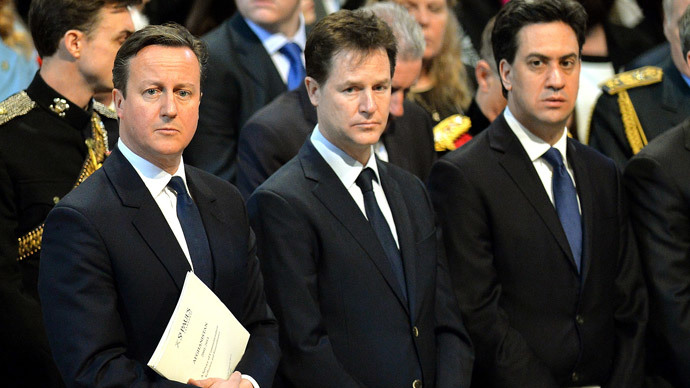 Prime Minister David Cameron, Liberal Democrat leader Nick Clegg, and Labour chief Ed Miliband are beset by 'cash-for-access' allegations, after it emerged all three men met an undercover business tycoon posing as a possible donor.
RT understands Cameron was secretly filmed by Chanel 4's Dispatches during a meeting with Paul Wilmott. Wilmott, who was working for the program in an undercover capacity, told the PM he was considering offering a donation to any of Britain's three main political parties.
Wilmott is also thought to have discussed policies that could have benefited one of his companies with Chris Leslie, Britain's shadow chief secretary to the Treasury.
On a separate occasion, the businessman and fake donor reportedly met with Miliband and Clegg. Wilmott's meeting with Clegg was filmed by Dispatches staff, as a part of its investigation into political donations in Britain.
READ MORE: 'Dirty' Money: Political parties face public scrutiny over 'suspect' donations (VIDEO)
The Dispatches program, due to be aired on Monday night, examined the murky world of donations across Britain's political landscape.
It is expected to unveil footage of Wilmott meeting Cameron at a Tory fundraising ball, alongside video evidence of Wilmott meeting another senior Cabinet member at an exclusive Tory donor event.
The clandestine filming is expected to offer a rare insight into Britain's murky world of political fundraising. The events documented are expected to raise serious concerns relating to wealthy donors' capacity to access influential UK politicians with little more than the promise of cash.
The Conservative Party is furious about the secret filming, sources say.
Both Labour and the Tories say all donations were declared properly, and that no wrong-doing occurred.
The most recent revelations uncovered by Dispatches form part of a long line of cash-for-access scandals in Britain. Earlier in March, the Daily Telegraph revealed a leading member of Clegg's inner circle had accepted a donation, which could have emanated from questionable sources.
READ MORE: Party of the rich? Almost 50% of Tory donors are hedge fund managers – research
The Lib Dems were prepared to operate in a manner that allowed the source of the donor to remain hidden on the UK's official register. However, such a move could signal a breach of UK electoral law.
The Lib Dems were hit by another funding scandal last week following allegations it had accepted another illegal donation that allegedly "bought" access to party leader Nick Clegg.
Reflecting on secret filming carried out by Channel 4, a Labour spokesman said its frontbenchers regularly meet with business leaders to listen to their views.
He went on to tell the Telegraph "Chris Leslie has discussed economic issues with hundreds of industry experts in recent years." He concluded there was "no suggestion of any wrongdoing having taken place."
A Tory spokesman said the party's policy of holding fundraisers is openly stated on its website.
"The fact that donors are invited to attend events with senior figures within the party is clearly and openly stated on our website," he told the Telegraph.
"All donations to the Conservative Party are properly and transparently declared to the Electoral Commission."