#PeopleNOTpolls: 'Abandoned' blacks, Asians & minorities demand political voice
Published time: 14 Apr, 2015 14:45
Edited time: 7 May, 2015 14:19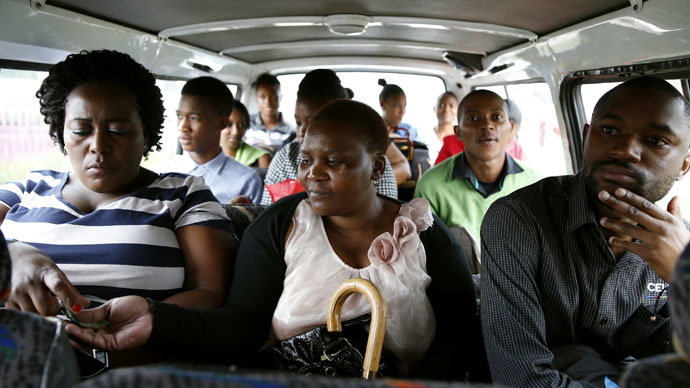 As the general election gets under way, members of the black, Asian and ethnic minority (BAME) community, who say they have been "abandoned by the government for years," are demanding action by political parties to represent them better.
The BAME community makes up more than 14 percent of the UK population. According to new research, Britain's minority vote "may determine the outcome of the 2015 election."
An Operation Black Vote (OBV) study found the number of seats where black and Asian voters could decide the outcome has increased by 70 percent since the 2010 election.
Issues such as unemployment, immigration, criminal justice, tuition fees, housing and health are core policies which matter most to BAME minorities in Britain, the study found.
However, Labour figures released in March show the number of BAMEs unemployed for more than a year had risen by nearly 50 percent under the Conservative-Liberal Democrat coalition.
This often gets left out of mainstream Muslim-extremist narratives-50% rise in long-term unemployment for the youth of BAME communities

— Media Diversified (@WritersofColour) March 25, 2015
Data from the National Office of Statistics shows unemployment fell by nearly 190,000 last year, but over 40,000 BAMEs remained unemployed for over 12 months.
Under the conservatives employment figures has risen overall but unemployment for BAME youth has increased by 50%.

— Stef (@Kahduna) March 18, 2015
The study suggests the fall in unemployment has had little impact within the BAME youth community.
'BAME communities failed'
Labour's Asian parliamentary candidate for Tooting, Sadiq Khan, told the Voice newspaper: "The government has failed BAME communities. Only Labour will help everyone to fulfill their potential."
"The Conservative and Liberal Democrat government's failure to do anything about it demonstrates the complacency with which they treat Britain's ethnic minority communities.
"Labour is committed to building an economy that works for ethnic minority communities across Britain, rather than just for a few at the top," he told the paper.
.@SadiqKhan, @RachelReevesMP & @GloriaDePiero visit Brent to discuss increasing unemployment among BAME young people http://t.co/gyZvXC2FoT

— London Labour (@LondonLabour) March 12, 2015
Co-chair of Citizen UK Edward Badu told RT he is "still unsure" of who he wants to vote for. He is currently "not in favor of any particular political party" but Labour's policies do appeal to him.
"I want a party that can work with any organization like ours, and one that understands the issues that somebody like me faces."
Badu told RT he is keen to see a change in the unemployment figures among BAME youths in the UK. "We are the next generation and we need to be invested in."
BAME campaigner Joanna Kwesi told RT she thinks "Labour is the party for aspirations, they care for people of all backgrounds, and they are working hard for us."
"The Tory's left immigration out of their core election issues, how do they think we will ever respect them for this?" she asked.
Great @BCBCOLLEGE@MosaicNetwork QuestionTime pic @kpmguk@JPonpolitics@ChukaUmunna@EdwardDaveyMP@JonathanHolt15pic.twitter.com/l8JEjLmVos

— Patchwork Foundation (@UKPatchwork) April 14, 2015
23DAYS #GE2015 CampaignTraining #GetInvolved2015@JPonpolitics@ChukaUmunna@EdwardDaveyMPhttp://t.co/JIKWVldNZkpic.twitter.com/cmyhT0fhIU

— Patchwork Foundation (@UKPatchwork) April 13, 2015
During a General Election Question Time debate held in London last month, Labour's Shadow Business Secretary Chuka Umunna said the party is "working very hard" to better the situation for BAMEs in the UK.
Great to have @RachelReevesMP@GloriaDePieroMP & @SadiqKhan speaking to young people about high BAME unemployment. pic.twitter.com/bcKzStKd1C

— Young Labour BAME (@YoungLabourBAME) March 11, 2015
"All different communities need fair immigration policies," he said
"I'm sorry, but I do think the tone and nature of the debate around immigration in our country is disgusting," he added.
Labour are going to do "what no other party is committed to doing," Umunna told RT.
Posted by Patchwork Foundation on Tuesday, 14 April 2015
"With young black people who have been out of work for long term, we are going to guarantee them jobs so they have to opportunities to make it in this world."
'Tory's stronger economy'
Attending the debate, another BAME and equal rights campaigner, Damiola Ejoko, told RT: "It is very stereotypical for black people and ethnic minority people to vote Labour.
Launching the Conservative Party election manifesto with the Prime Minister this morning #Economy#secure#GE2015pic.twitter.com/SLTlXuaPrJ

— Caroline Kerswell (@caroline4wigan) April 14, 2015
"We need to look at the bigger picture. The Tory's are fighting for and have been fighting for our economy, and this alone could rescue BAME's from many of the crisis we face."
My predicament this GE: I trust the #Conservative party with the economy & nothing else, I trust #Labour with everything but the economy.

— Antilhano (@ashrouen) April 13, 2015
A strong #NHS needs a strong economy - and that's what the #Conservative Party will deliver: http://t.co/hrFHjFMWCFpic.twitter.com/iK4TBUwabK

— Conservatives (@Conservatives) April 11, 2015
At the Question Time debate, Conservative Secretary of State for Justice Chris Grayling said: "Bear in mind it has only been 5 years since we've had a Labour government. And it's only been five years since we were in the deepest financial crisis in modern history.
Small steps, but good to see 3 out of 5 panellists on #QuestionTime are BAME. And interesting that two of those three are conservative

— Padraig Reidy (@mePadraigReidy) March 19, 2015
"In the past five years the economy has got better, we have increased the number of apprenticeships and more young people from BAME backgrounds go to university.
"Things are moving in the right direction," he added.
Grayling says the Tories are working with more diversity officers "to help people understand and get on with the party."
He urged ethnic minorities to drop Labour and vote for the Conservatives "for a more secure future."
'Reclaim democracy'
Unwilling to settle on a contender, Simon Woolley, director of Operation Black Vote, told RT: "It is not just about one party. We want all political parties to fight for the black vote."
http://t.co/uhy4SvegTG Operation Black Vote 2015 General Election Manifesto #OBVManifesto

— Operation Black Vote (@OpBlackVote) April 14, 2015
"Every political party should plan how they are going to close the race in equality gaps," Woolley said.
"Every aspect of our day to day lives is a subject to racial penalties. We want black people to reclaim democracy," he added. "Unemployment, criminal justice and the voices of young people" are issues which political parties need to tackle.