​Radioactive Fukushima food could be hitting UK shops through safety loopholes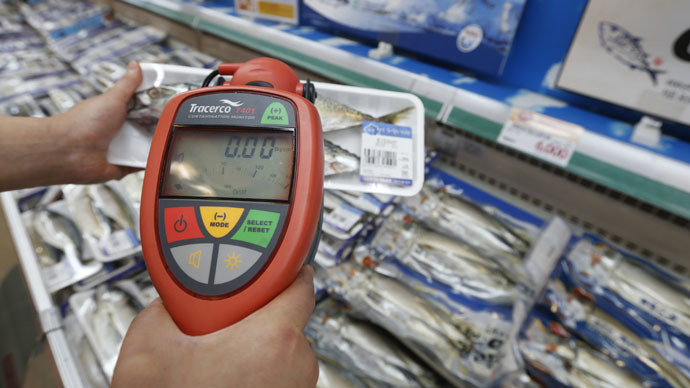 Food produced near the site of the Fukushima nuclear disaster in Japan could be heading to British supermarkets due to loopholes in safety laws, an investigation has revealed.
Security experts warned the UK's food import regulations are not strong enough to prevent products contaminated with radiation from entering the country.
Foodstuffs containing radiation typically have low levels of cesium and radioactive iodine, both which are mildly carcinogenic.
Contaminated products such as tea, noodles and chocolate bars have already been exported from Japan by fraudsters using false labels.
An investigation by the Independent newspaper discovered there is a risk such food may have already arrived in the UK due to loopholes in safety regulations.
The report follows revelations in Taiwan last month that more than 100 contaminated products from Fukushima were being sold in stores under false labels.
According to the China Post, imported soy sauce labeled as 'Tokyo-made' was in fact manufactured in prefectures surrounding Fukushima that are subject to export restrictions.
The scandal caused public outcry, prompting Taiwanese officials to introduce new import regulations.
Food produced in the 'danger zone' around Fukushima prefecture must be declared and tested for radiation before being exported and on arrival in the UK.
According to the Independent, the system relies on honest certification and reports of fraudsters attempting to pass Fukushima foods off as from elsewhere in Japan has raised suspicion over import security.
"I suspect what has happened in Taiwan might well have already happened in the UK," a fellow at the Royal Society of Arts and principal adviser to the London-based food safety consultancy Shantalla, Alastair Marke, told the paper.
"Intermediary supply chain middlemen can buy food in bulk and package and label as they like – before shipping them to the UK.
"Although we have adopted one of the world's most comprehensive and stringent traceability laws, the UK has virtually no control over how foods are processed, manufactured and packaged in Japan."
The Fukushima Daiichi nuclear plant was the site of a nuclear meltdown in March 11, 2011, triggered by one of Japan's largest earthquakes.
The plant's operator, Tokyo Electric Power Company (TEPCO), admitted in October 2012 the company failed to take adequate measures to prevent potential nuclear disasters.
Radioactive fallout has contaminated crops in the region surrounding the plant, while 'radionuclides', which are transferred through soil into vegetables or animals, may build up over time.
"There is a risk that radioactive food is getting on to the UK market," the Institute of Food Safety Integrity and Protection's Eoghan Daly told the Independent.
READ MORE: Robot sent to Fukushima reactor core records fatal radiation levels (VIDEO)
He added the potential health impact of consuming contaminated food is relatively low, but not entirely negligible.
Japan's Health Ministry told the Japan Times food exports are regularly checked for radioactive contamination.
The government department said between April 1 last year and March 1 this year, around 292,000 samples were tested for radioactive cesium. Some 502, or 0.17 percent, exceeded the regulation level.
According to the World Health Organization, cesium can linger in the human body for decades and increases the risk of cancer.
Radioactive iodine, another material found in nuclear fallout, increases the risk of thyroid cancer, particularly in children. However it quickly decays, meaning most of the radiation is gone within two weeks.
A robot sent into the primary containment vessel of Fukushima Daiichi nuclear plant on Monday detected radiation levels of 9.7 Sieverts per hour, or enough to kill a human within one hour.
The TEPCO robot was expected to be operational for 10 hours, but died within three hours of starting its mission.
News of the ongoing problems in Fukushima come as a court in Japan halted the relaunch of a nuclear power station in Fukui prefecture on Tuesday.
Judges sided with residents, who sought an injunction against the Takahama plant's reopening on safety grounds.
You can share this story on social media: