​Swords at dawn? Farage ducks Polish prince's duel challenge over immigration insult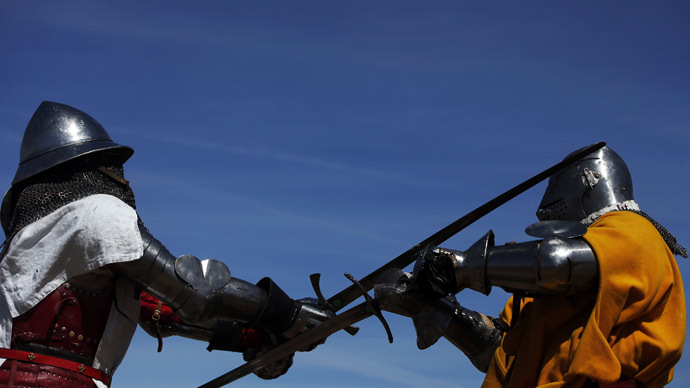 The UKIP leader has turned down a challenge by a Polish prince to face him in a Hyde Park sword duel on a morning of Farage's choosing.
Responding to the challenge, Farage told Channel 4 that he hoped to "keep violence out of the election."
Having taken offense at the UKIP leader's "idiotic" comments on immigration, Prince Janek Zylinksi demanded satisfaction via YouTube on Saturday.
The prince is the son of a Polish war hero, Andrzej Zylinski, who is said to have saved 6,000 Jews by charging a Nazi-held town in 1939.
Speaking from his opulent mansion in Ealing, Zylinski summoned the candidate for Thanet South to face him on the field of combat, all the while brandishing a wickedly curved and highly polished cavalry saber.
"I've had enough of the discrimination against Polish people in this country," he bristled.
The aristocrat said the populist politician's attitude had him set on a road to nowhere: "The most idiotic example I've heard of has been Mr Nigel Farage blaming migrants for traffic jams on the M40."
"Enough is enough, Mr Farage. So what I'd like to do is to challenge you to a duel. I'd like us to meet in Hyde Park one morning, with our swords, and resolve this matter," Zylinksi added, as he petted his not insubstantial chopper with frank martial glee.
Perhaps anticipating Farage is more into pints than fights, the prince did not rule out the option of a less violent denouement. "If his sword is a little rusty, we could meet in a studio for a duel of words in the run-up to the election."
It is not the first time right-wing political groups with anti-immigration stances have been called out by those willing to prove their martial proclivities.
READ MORE: UKIP candidate apologizes for saying Lib Dem 'deliberately caught HIV'
In 2014 Paul Golding, leader of Britain First, was rumored to have been invited to take part in a Mixed Martial Arts (MMA) match by Muslim professional fighter Umar "Bullet Tooth" Kayani.
Kayani was quoted on the EDL News blog as saying: "I have offered out Britain First leader Paul Golding to a professional MMA fight!"
"Now let's see if Paul can be a man and step into the cage with a Muslim instead of going around threatening old Muslim men in mosques."
Even though Farage's nostalgic fondness for British imperial history is well known, the last recorded duel involving a senior British politician was in 1829, when former British Prime Minister (and vanquisher of Napoleon) the Duke of Wellington fought a duel with the 10th Earl of Winchilsea. Both men aimed wide, but presumably honor was satisfied.
However, it appears the tradition of swords or pistols at dawn between gentlemen in England will not be restored quite yet
You can share this story on social media: