​Labour 2015 manifesto: Miliband pledges to 'balance books,' cut deficit, up minimum wage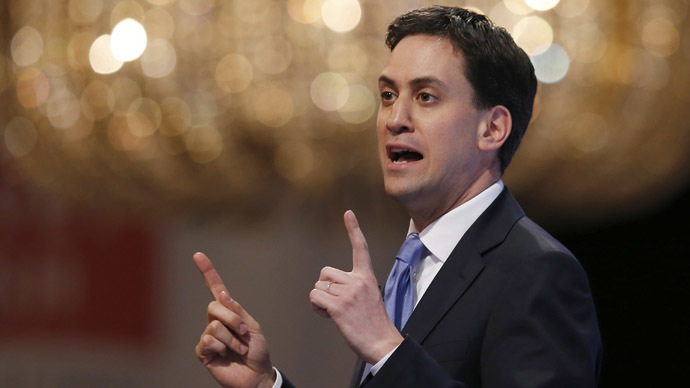 Ed Miliband has outlined his party's ambitious plans in Labour's 2015 manifesto, including pledges to balancing the books, cut Britain's deficit year-on-year and increasing the minimum wage.
A new Labour government would be committed to a "budget responsibility lock," whereby every policy announced would not require any additional borrowing.
"This is a plan to change our country," Miliband said, as he launched the manifesto in Manchester on Monday.
"A plan to reward hard work, ensure prosperity is fairly shared, build a future for the next generation and improve our NHS. This is a manifesto which shows Labour is not only the party of change but the party of responsibility too."
He pledged Labour would be a "party of change and responsibility," creating a Britain that "works for working people."
Notable pledges highlighted at the launch included increasing the minimum wage to £8 an hour. Labour also pledged to freeze rail fares for a year, freeze gas and electricity bills until 2017, ban some zero-hour contracts and cut tuition fees from £9,000 to £6,000 per year.
Miliband also accused his main opponents, David Cameron's Conservative Party, of being "the party of sums that do not add up and commitments that cannot be kept."
The Conservatives and Liberal Democrats will launch their manifestos later this week.
'Two-state solution'
When it comes to foreign policies, securing peace in the Middle East and finding "a comprehensive two-state solution" for Israel and the Palestinians are a key aim for his party.
The manifesto says: "Peace and security in the Middle East are one of Labour's most important foreign policy objectives.
READ MORE: I'll recognize Palestine 'at the right moment' – Labour's Miliband
"There can be no military solution to this conflict and all sides must avoid taking action that would make peace harder to achieve. Labour will continue to press for an immediate return to meaningful negotiations leading to a diplomatic resolution."
The manifesto also pledges a "zero-tolerance approach to hate crime, such as anti-Semitism and Islamophobia."
"We will challenge prejudice before it grows, whether in schools, universities or on social media. And we will strengthen the law on disability, homophobic, and transphobic hate crime," it says.
Spending 'addiction'
Commenting on the manifesto, however, Deputy Prime Minister and Liberal Democrat leader Nick Clegg said it was "not worth the paper it's written on."
"The Labour Party saying they have no plans for additional borrowing is like an alcoholic who consumes a bottle of vodka every day, saying they have no plans to drink more vodka. It's a dangerous addiction and the Labour Party have no plan and no date by which to clear the decks, wipe the slate clean and deal with the deficit."
Critics, even among his own party, have quickly come out to criticize Clegg's remarks.
READ MORE: General Election Leaders' Debate LIVE UPDATES
"I'm making a serious point in a forceful, if colorful, way," he explained in a follow-up statement. "You've had a Labour manifesto today, which is deeply mendacious, claiming to people that they're not going to make additional borrowing when that's exactly what they're going to do."
"They're claiming they've discovered fiscal probity and discipline when they haven't and I'm saying that it's as implausible as somebody who drinks a lot who claims that, because they're not going to drink a bit extra, somehow they've cracked their problem."
Labour's keynote pledge to cut the deficit and refrain from borrowing is the focus of several analysis and commentators. The Institute for Fiscal Studies (IFS) said to achieve balancing the books could mean Labour may introduce "significant spending cuts or tax rises." Such measures would either need to take place early on in the parliament or not at all.
IFS Director Paul Johnson said: "They are committed to getting a current budget balance – a current budget surplus – by the end of the parliament. That's an entirely credible fiscal policy. But they continue to not to give us any sense as to how quickly they want to achieve that.
"That could involve significant spending cuts or tax rises over the next three years if they want to get there within the next three years, or it could actually involve no spending cuts in order to just achieve that by the end of the parliament."