I'll recognize Palestine 'at the right moment' – Labour's Miliband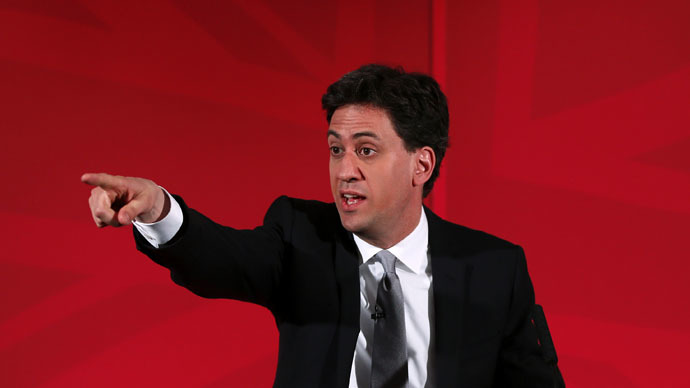 Labour Party leader Ed Miliband said he supported recognizing Palestine as an independent state if this would help bring about a broader peace deal in the Middle East.
The leader of Britain's main opposition party was asked by a reporter on Friday whether his government would recognize Palestine as a state in the first two years of his premiership, should he win May's general election.
He said his party backed MPs' symbolic vote in favor of recognizing Palestine.
READ MORE: Britain must officially recognize Palestine if Israel drops 2-state solution, says Clegg
"What we said at the time of that vote was that it was a vote about the principle of recognition. And clearly a decision about when recognition would take place was dependent on how it would constructively help negotiations."
"I am not going to get into, today, speculation about when that would precisely be. That is a judgment we would have to take at the time."
READ MORE: 'Antagonistic' Israeli settlements increase chances of Palestinian state – ex-foreign sec Rifkind
In October, he insisted Labour MPs in parliament must back the motion to recognize Palestine as an independent state.
Miliband, who is of Jewish decent, visited Israel and the Palestinian Territories last April. During his visit to the West Bank, he said expanding Jewish settlements in the occupied territories posed "a mortal threat to the two-state solution."
Following a visit to a Bedouin camp, he said: "What I have seen today shows that the expansion of Israeli settlements on the Palestinian West Bank is not only wrong and illegal but represents a mortal threat to the two-state solution and to a successful outcome of the peace process."
He added: "If we are going to have a viable, democratic Palestinian state, the more we see an expansion of settlements the more it becomes difficult to construct this state."
You can share this story on social media: