'Zero credibility': UK energy minister accepted £18k from leading climate change skeptic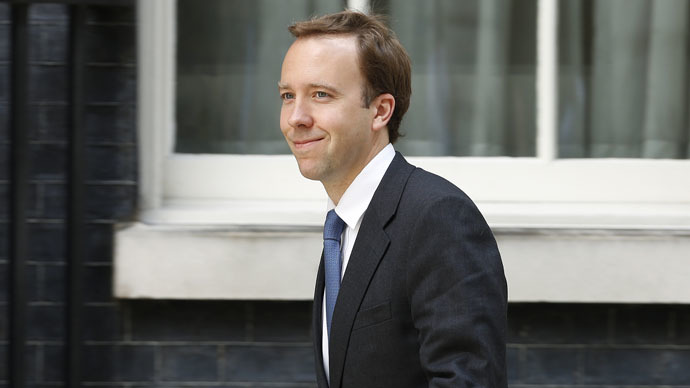 Tory energy and climate change minister Matthew Hancock accepted £18,000 from a key supporter of Britain's most prolific climate skeptic lobby, it has emerged.
Hancock's relationship with City financier Neil Record was uncovered by a Greenpeace investigation published Friday. According to official state records, Hancock accepted five separate donations over a period of several years from the wealthy backer.
Record is an unrepentant climate skeptic who is on the board of Britain's most powerful climate skeptic lobby, the Global Warming Policy (GWF) Foundation. The currency manager and City financier also sits on the board of GWF's campaigning division.
READ MORE: Britain's 'gagging law' stifles political debate on key election issues, charities warn
Hancock, who will run for reelection as a Tory MP for West Suffolk, has accepted yearly cash handouts of £4,000 from Record since 2011, according to the Electoral Commission. Additionally, the Tory MP received £2,000 in "travel costs" from Record in 2010.
The latest £4,000 donation handed to Hancock was given to the Conservative MP after he became energy and climate change minister in November 2014.
Although the Tories have received over £300,000 from Record in total, Hancock is the only individual MP to secure such financial backing, the Electoral Commission's records reveal.
Financial backers of Britain's Global Warming Policy Foundation are afforded anonymity as the climate skeptic lobby is registered as an "educational charity."
The group's director, former Conservative Chancellor of the Exchequer Nigel Lawson, denies claims it is funded by "fossil fuel interests," according to environmental advocacy group Greenpeace.
Nevertheless, Hancock's climate skepticism is apparent.
The energy and climate change minister openly signaled his support for fracking in 2012 when he produced a Conservative Free Enterprise Group report calling for the government to cut wind subsidies and go ahead with shale gas drilling.
READ MORE: UK lobbying to keep one of Europe's dirtiest power plants open for business
Two years later, a handwritten memo of Hancock's to the CEO of onshore gas company Igas was released under the Freedom of Information (FoI) Act. The note told Austin: "Onshore oil and gas is a key agenda for me."
Greenpeace executive director John Sauven said Hancock's position on climate change is clear.
"It says something that we have an energy and climate change minster who hates wind, loves fracking, and accepts large sums of cash from a central figure in a notorious and secretive climate skeptic lobby group," he told RT.
"Meanwhile, the government has introduced a 'Lobbying Act' that does nothing to combat the power of money in politics but instead gags charities and grassroots organizations that seek to hold power to account."
Record has previously gloated about the power of political donations to broker access to the top echelons of the Conservative Party. The Daily Mail quoted him as describing the access a £50,000 ($75,000) a year membership to the Leaders Group can provide as "discreet and nicely done."
"You get 10 people around the table. There will be five minutes from David [Cameron] about what they want to do. And then it's any questions," he reportedly said.
RT attempted to speak with Hancock by telephone on Friday to ask whether he believes the donations he received from Record are legitimate. He could not be immediately reached for comment, however.
READ MORE: 'Profit over security': Business trumps climate targets – Oxfam UK
Probed on whether the energy and climate change minister has ever discussed energy policy with Record, a spokeswoman for Hancock told The Guardian: "All donations are declared publicly and proper process [is] followed."
Record also told the paper he never discussed energy policy with Hancock.
"I have never discussed energy policy or climate change with Matthew. Our discussions tend to center round our mutual interest in economics (we both started our careers as economists at the Bank of England)," he said.
"I believe that the important scientific enquiry required for us to understand man's effect on the climate is being hampered by a monolithic 'establishment' view that the science is settled."
Record added that he thinks some of the "current popular political choices for carbon reduction (wind; solar in high latitudes) are woefully inefficient and unsustainable."
Caroline Flint, Labour's shadow energy and climate change secretary, said the relationship between Hancock and Record illustrates "why the Tories can't tackle climate change and have zero credibility on this issue."
She added: "The Tory party all the way to the top are not the right people to negotiate a better deal for the world to tackle climate change."
RT asked the Department of Energy & Climate Change (DECC) to comment on Hancock's relationship with Record, but a spokeswoman for the department declined.
You can share this story on social media: