'Oil worth £300bn' discovered under London's Gatwick Airport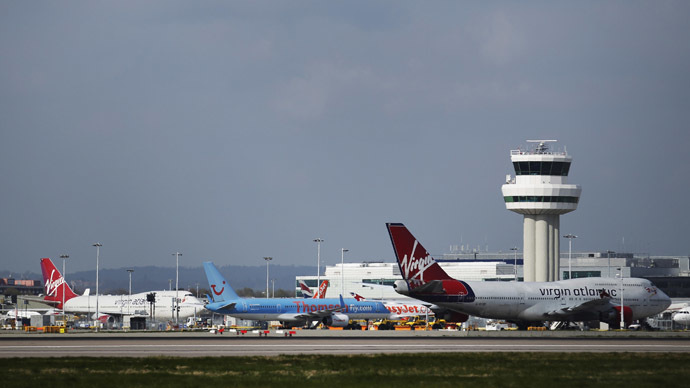 UK Oil & Gas Investments (UKOG) claims up to 100 billion barrels of oil have been found beneath Gatwick Airport, believed to be worth more than £300 billion. However, the discovery and its scale are yet to be independently verified.
UKOG said drilling in the 55-square mile site had uncovered 158 million barrels per square mile across the South of England.
"We think we've found a very significant discovery here, probably the largest in the last 30 years," said UKOG's chief executive, Stephen Sanderson, of the Horse Hill-1 well in the Weald Basin.
"We think it has national significance. It is a world-class potential resource and has the potential for significant daily oil production.
"Based on what we've found here, we're looking at between 50 and 100 billion barrels of oil in place in the ground."
The US-based firm, which studied the reservoir, estimates recovery of the oil would be limited to between 5 percent and 15 percent of the total.
READ MORE: British firms discover oil and gas off Falklands, Argentina threatens legal action
"We believe we can recover between 5 percent and 15 percent of the oil in the ground, which by 2030 could mean that we produce 10 percent to 30 percent of the UK's oil demand within the Weald area," Sanderson said.
For comparison, the North Sea has produced around 45 billion barrels in 40 years.
In May 2014, the British Geological Survey estimated that the Weald Basin, where the oil was found, holds around 4.4 billion barrels of shale oil.
The company's chairman David Lenigas, said it would create "many thousands of jobs" but said it would take a long time to begin production, while Sanderson said only a relatively small part of the oil will be recovered.
Lenigas told Sky News: "You've got to work through government process and to work with the local community. Everybody expects you to snap your fingers and all of a sudden the magic panacea is there. The key thing is there is a potential resource of significance here – but the fast track or slow track nature is really going to be determined by Westminster."
You can share this story on social media: