Counter-terror police take over Syrian imam murder probe amid fears politically motivated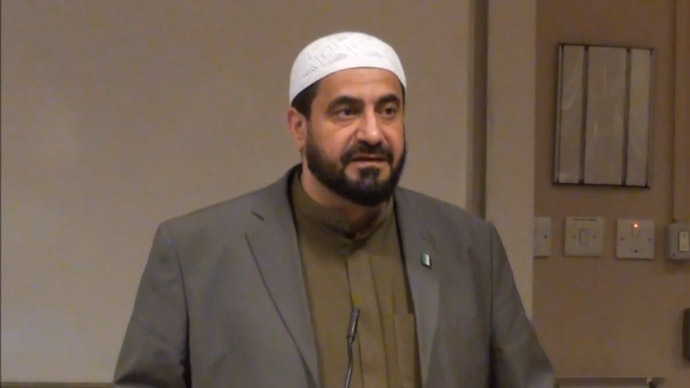 The Metropolitan Police counter-terror unit has assumed control of the investigation into the murder of a former imam and outspoken critic of Bashar Assad, who was found shot dead Tuesday.
Abdul Hadi Arwani was discovered in the back of a Volkswagen Passat in north London having suffered gunshot wounds. He was pronounced dead at the scene Tuesday morning.
Scotland Yard's counter-terror unit has taken over the case amid speculation the killing was politically motivated.
A police source told the MailOnline on Wednesday morning the killing had the hallmarks of a "state-sponsored assassination."
Dr Khaled Kamaraldin, who knew Mr Arwani for 15 years, echoed the sentiment, saying; "This was a state kill. Assad was behind it, and if not Assad one of his cronies.
"He was very active against the Assad regime. But he was a conciliator, he was not violent.
"What shocks me is they shot him in broad daylight in the centre of London. They have no respect. There is no doubt the police will get him."
Other members of the community speculated that he may have been killed for criticizing the Islamic State.
One said: "He stood up in the pulpit and said I am against Isil. His judgment was well respected in our society and he was listened to. They may have killed him because of that."
READ MORE:Syrian anti-Assad imam shot dead in London
Arwani, who was born in Syria and studied in Jordan, was a well-known critic of the Assad regime, which he described as "more than criminal … less than animal."
He was forced to flee Syria after being sentenced to death by Assad for taking photos during the aftermath of the 1982 Hama massacre.
His family described him as "the most peaceful man you could ever wish to meet" in a statement posted on social media.
They said they were "in shock," adding "we have not slept and our minds are a blur as to what happened and why.
"The police are currently investigating this brutal murder. As an individual, a family and a community, we are helping the police to solve this heinous crime."
Pleading for members of the public with information to come forward, the family said the father of six was "a very well loved figure in West London."
The statement added: "He just loved to help people. He did not care what your background, race or status was. He did not care if you were rich or poor. He just wanted to help people in need.
"He was an old fashioned man who thought love and understanding could cure all of the world's ills. He was always smiling and joking with everyone he met.
"He showed so much love to his congregation and to his community as an imam and a loving father to us, his six children."
In a statement, the police said the case was being transferred to the counter-terror unit because of their "expertise in the management of investigations with international dimensions and an established liaison network abroad."
"The investigation remains in its very early stages and officers remain open-minded about the motive," police said.
One source, an expert on the functions of the counter-terror unit, told The Guardian they would have been brought in to establish whether the murder had any links to state-sponsored terrorism or terror groups working in the UK or abroad.
However, Chris Doyle, director for the Council for British Arab Understanding, said the killing was unlikely to have been a political assassination organized by pro-Assad forces.
He said Arwani was not a key figure in the Syrian opposition movement in the UK and was unlikely to have been known to the regime.
You can share this story on social media: