Syrian anti-Assad imam shot dead in London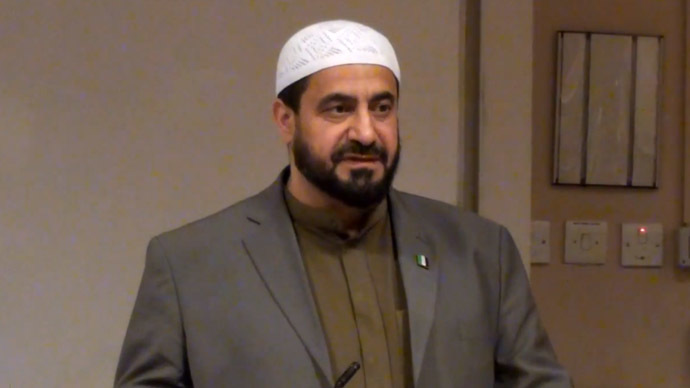 The Metropolitan Police have opened an investigation after a former imam at a west London mosque who was an outspoken critic of Syrian president Bashar Assad was found shot dead.
The man was named by local media as Syrian-born Abdul Hadi Arwani, formerly an imam at An-noor mosque.
He was discovered sitting in a dark-colored Volkswagen Passat with gunshot wounds on Tuesday morning in Greenhill, Wembley, in northern London after police responded to reports of a shooting.
A police source told the MailOnline on Wednesday morning that the killing had the hallmarks of a "state-sponsored assassination."
READ MORE: Closing in on Assad: ISIS captures Palestinian refugee camp inside Damascus
Police have said a post-mortem examination will take place and have opened an investigation into the death of the former imam, who is believed to have had six children.
Arwani, who was born in Syria and studied in Jordan, was well-known for his criticism of Assad's regime, which he described as "more than criminal … less than animal."
In 2012, during that year's Syria Crisis Week, Arwani spoke about growing up under the Assad family regime. He said he was forced to flee Syria after he was sentenced to death for taking photos during the aftermath of the 1982 Hama massacre.
The London College for Islamic Studies confirmed that Arwani studied in Jordan for three years before moving to the UK.
He is reported to have studied in the Sharia law faculty and was considered a marriage and divorce expert.
A police statement said "detectives retain an open mind regarding the possible motive."
Arwani was a popular figure in his community and tributes to the former imam flooded social media throughout Tuesday.
Sheikh Abdulhadi Arwani was found killed in his car earlier today, everyone is in complete shock. May Allah have mercy on his soul :(

— Ranya (@Ranzbox) April 7, 2015
I am so sad to hear of the death of Sh AbdulHadi Arwani. Inna lillahi wa inna ilayhi raji'oun. May Allah grant him firdous al ala. Ameen

— Liza B (@liza_biza) April 7, 2015
You can share this story on social media: