​Smoking gun? Britain's top diplomat to Pakistan rapped for attending tobacco lobby meeting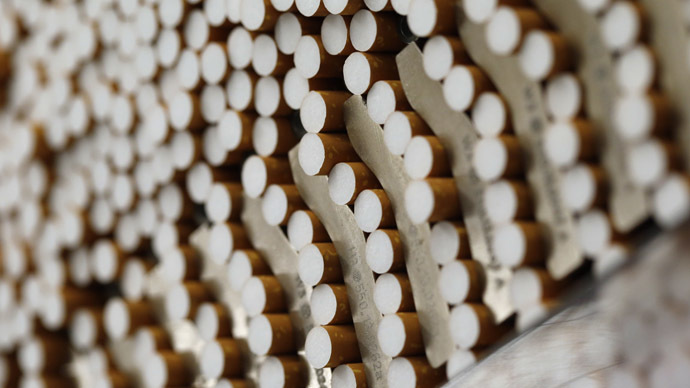 Britain's most senior diplomat to Pakistan broke government rules by attending a meeting alongside one of the world's most influential tobacco lobby groups, it has been claimed.
Phillip Barton, UK High Commissioner to Pakistan, was revealed to have attended a meeting in Islamabad on March 13 at which British American Tobacco (BAT) pressed the Pakistani finance and health ministers to drop plans for larger graphic warning photos on cigarette packets.
He was photographed at the meeting alongside BAT's global head of international trade and the Pakistani politicians.
READ MORE: Big tobacco fuming: Philip Morris threatens to sue over plain cigarette packaging
Official guidelines set out by the Ministry of Health and the Foreign Office forbid diplomats from taking part in lobbying or promotional activities for the tobacco industry, stating that they must not: "Encourage investment in the tobacco industry, or provide any assistance in helping tobacco companies influence non-discriminatory local business policies to their advantage (eg: taxation, plain/standardized packaging, etc)."
The Foreign Office told the Financial Times: "At no point did the high commissioner lobby the government of Pakistan on the issue of health warnings. He made clear that he was not at the meeting to do so."
BAT and the Foreign Office said the meeting was originally arranged to discuss the illegal tobacco trade in Pakistan.
The embarrassing revelations come at a time when the UK government is pushing for plain packaging at home, leading to accusations of a double standard from some commentators.
READ MORE: British firms could be linked to slavery, murder and ecological abuse overseas – NGO
The guidelines governing tobacco lobbying were only brought introduced in 2013 after another diplomat was accused of intervening on BAT's behalf in Panama.
The British government has increasingly put trade at the center of its foreign policy plans, at times with dubious effects.
Last week an NGO reported that hundreds of British firms operating abroad may be implicated in severe human rights abuses such as modern slavery, poverty-level wages, beatings, killings and environmental damage.
A report released by the Business and Human Rights Resource Centre it was found that British businesses impact heavily on communities and individuals around the globe.
The NGO's research suggests UK firms are linked to human rights scandals worldwide, many of which occur in developing nations.
This improper conduct is compounded by "critical weaknesses" in UK regulation that leave victims in foreign states defenseless against firms' "negligent or reckless" practices, the research found.
You can share this story on social media: