British firms could be linked to slavery, murder and ecological abuse overseas – NGO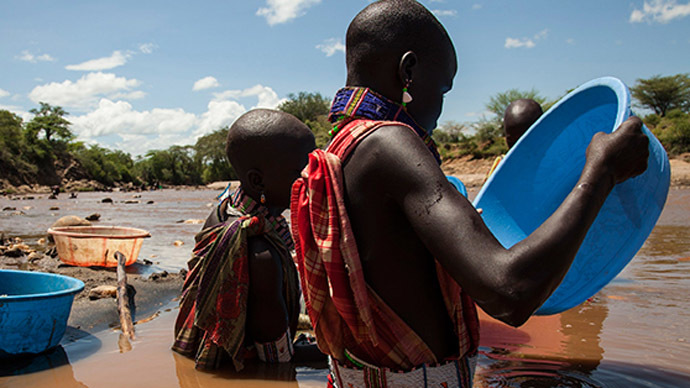 Hundreds of British firms operating abroad may be implicated in severe human rights abuses such as modern slavery, poverty-level wages, beatings, killings and environmental damage, an international NGO warns.
A report released by the Business and Human Rights Resource Centre on Wednesday found that British businesses impact heavily on communities and individuals around the globe.
The NGO's research suggests UK firms are linked to human rights scandals worldwide, many of which occur in developing nations.
This improper conduct is compounded by "critical weaknesses" in UK regulation that leave victims in foreign states defenseless against firms' "negligent or reckless" practices, the research found.
Out of sight, out of mind?
The Resource Centre monitors the human rights impacts of more than 6,000 firms in over 180 states. When human rights concerns are raised by civilians, it approaches the firms in question and sounds them out.
Since 2005, the Resource Centre has contacted 303 UK-based firms across the world about allegations of human rights violations.
The NGO's report says the majority of these allegations center on UK firms' practices abroad, particularly in the Global South. Its research uncovered "critical weaknesses in UK Government policy and action on business and human rights."
While firms' conduct in Britain is regulated, improper practices of UK companies operating abroad regularly "go unpunished," the NGO said.
READ MORE: See no evil, hear no evil? UK building firm linked to Qatari human rights violations
The Resource Centre warned that victims of "corporate abuse" face diminished access to justice in Britain, particularly since the coalition government introduced the Legal Aid, Sentencing and Punishment of Offenders Act 2012.
The NGO's report said UK firms operating within the extractive industry require particularly "urgent attention."
"Allegations against extractive companies were 47 percent of the total against UK companies," it said.
"While London has become a global hub for mining and extractive industries, these companies are often implicated in some of the most egregious allegations of human rights abuses, including displacements, killings, and large-scale pollution."
The NGO probed one such British firm, Glencore, regarding its conduct in the Democratic Republic of the Congo (DRC).
Among the charges leveled at the firm were claims it had contaminated local communities' water supplies, and was linked to brutal beatings and killings by police.
Glencore insisted it "is committed to upholding human rights," and refuted allegations that it "manipulates DRC regulation to suit its interests."
The Resource Centre's report also uncovered UK firms' links to allegations of labor rights abuses, particularly within the fashion industry. Allegations of modern slavery also surfaced in its study.
READ MORE: G4S may have profited from Guantanamo human rights abuses – charity
"UK companies are linked to allegations of labor rights abuses and modern slavery, particularly through complex global supply chains," the report said.
"Among non-extractive companies, these issues emerged as the key area of concern, particularly for apparel companies."
"Allegations [also] linked UK companies to forced labor, union busting, poverty wages, and workplace deaths – like the Rana Plaza factory collapse that took the lives of 1,129 workers in 2013," it added.
The Resource Centre's report called upon the next government to encourage and compel British companies to respect their staff's basic human rights, and ensure abuses are met with accountability.
Economic Relations Programme Director Peter Frankental of Amnesty International UK, said the message of the Resource Center's report is clear.
"When it comes to respecting human rights, businesses need to raise their game and the government needs to hold them accountable when they don't."
Phil Bloomer, director of the Resource Centre, said UK businesses severely impact upon communities worldwide.
"As a leading economy our companies should be setting the standard for corporate conduct on human rights, not being implicated in everything from poverty wages to beatings and killings," he said.
"The next government must encourage and push companies to respect human rights and ensure abuses do not go unpunished."
You can share this story on social media: