ISIS 'pop idol' status luring more British teenagers to Syria, warns prosecutor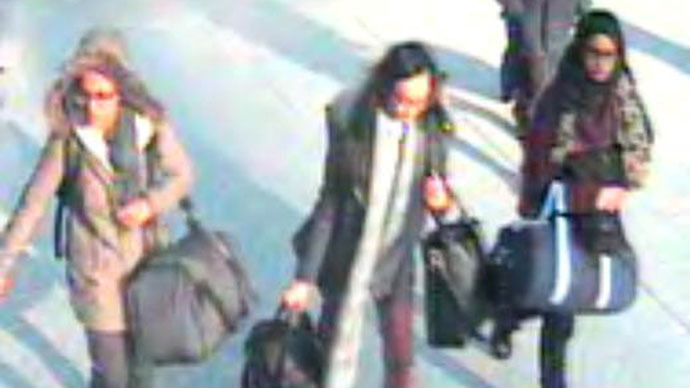 Islamic State jihadists are becoming like the Beatles, One Direction and other pop idols with British boys wanting to be them and girls wanting to be with them, a senior British prosecutor has warned.
Nazir Afzal said the campaign to market Islamic State – "jihadimania" – is putting more British teenagers at risk of traveling to Syria to join the group.
"The boys want to be like them and the girls want to be with them," he said in an interview with the Guardian.
"That's what they used to say about the Beatles and more recently One Direction and Justin Bieber. The propaganda the terrorists put out is akin to marketing, and too many of our teenagers are falling for the image."
"The extremists treat them in a similar way to sexual groomers – they manipulate them, distance them from their friends and families, and then take them."
READ MORE: UK politician's son among 9 arrested for trying to enter jihadi controlled Syria
He warned that if youngsters do go to Syria, they are going to be more radicalized when they return to the UK, posing a threat to the country's security. If they don't go, they become a problem to British security services and are a "ticking time bomb."
"The reality is that [ISIS] are no more than narcissistic, murderous cowboys. We need to stand up and say that very, very clearly, rather than allow kids to be drawn to them like the equivalent of pop idols," he said.
The allegedly British Islamic State executioner Mohammed Emwazi was granted the moniker "Jihadi John" by British captors, in reference to the Beatles front man John Lennon.
Since last year, the group has launched a sophisticated social media campaign to spread its message and recruit people from all over the world.
READ MORE: Medic student who joined ISIS 'to treat jihadists' wants to go back to UK
A former British jihadist girl claimed the group uses pictures of attractive jihadists to lure girls in.
"As a teenager I wanted to get my piece of eye candy and I'd take a good look, and all the YouTube videos, for some reason, they [the militants] were all really, really attractive," said Ayesha (a pseudonym), in an interview with BBC Newsnight last month.
"It was like, get with him before he dies. And then when he dies as a martyr you'll join him in heaven."
More than 600 Britons are believed to have traveled to Syria with many joining the terror group. Teenage boys have joined militants to become fighters, while girls have traveled to the region to become jihadist brides.
You can share this story on social media: